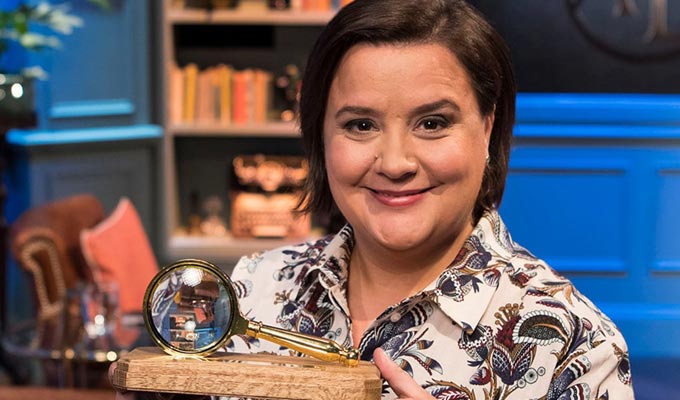 Susan Calman's cancelled TV show is up for a Bafta
Susan Calman's daytime whodunit show Armchair Detectives has been nominated for a Bafta – despite being dropped after one series.
The BBC One daytime programme has been shortlisted for a Scottish Bafta for best entertainment show, but Calman has revealed that the show has been axed.
The comedian tweeted today: 'Armchair Detectives isn't coming back sadly. I just have to solve mysteries on my own.'
And she previously posted: 'We haven't got a second series. Cast and crew were all wonderful and I'd hoped to continue our murderous journey together but sadly it's farewell to Mortcliff. Thanks to everyone who watched and loved it as much as we did.'
In the programme, three amateur sleuths solved a deadly crime, watching out for clues in footage presented to them from the comfort of the armchairs in the studio. Calman was partly chosen as host because of her degrees in law and forensic science.
Fans have expressed their disappointment at the show's cancellation on Twitter.
Nick Blakemore called the BBC 'rotten sods' and said the show was "original and fun, compared to the brain dead fodder that usually fills those slots'.
Ruth Prosser tweeted: 'Nooooo!!!! Gutted, really loved the show.'
And Therese Oakleaf said: 'That is a shame, my son & I loved trying to solve the cases.'
Twenty 45-minute episodes were stripped across four weeks in November and December last year, with the opening episode attracting 1.2million viewers. It went on to average 802,000 viewers, slightly lower than the slot average
When the series started, BBC commissioning editor Jo Street called it 'an ambitious and innovative idea from an infectiously creative team,' adding: The clever mix of drama and quiz hits just the right tone for our audience.'
Other Scottish Bafta nominees include Scot Squad, which is up for best scripted TV programme, and Elaine C Smith and Jonathan Watson, who are up for acting awards for their roles in Two Doors Down. Armando Iannucci is up for best writer and director for Death Of Stalin.
The winners will be announced on November 4.
Published: 26 Sep 2018
Recent News
What do you think?