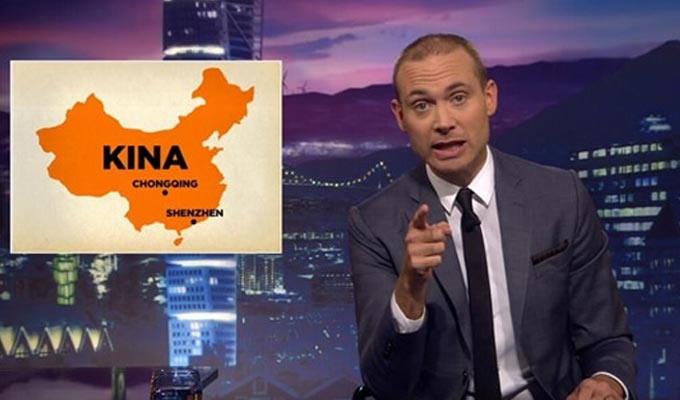 Swedish satire provokes a diplomatic incident
A Swedish satirical show has sparked a diplomatic incident after mocking the Chinese.
Beijing has launched an official complaint over the sketch on Svenska Nyheter (Swedish News) which gave spoof advice for Chinese tourists visiting the country.
The skit followed a news story in which police forcibly removed a Chinese family of three from a hotel after they arrived 14 hours before check-in and refused to leave the lobby. Footage of the incident, in which the adult son was seen screaming at the officers, went viral.
China had already complained over the incident, saying the tourists were mistreated and insisting on a thorough investigation – and has issued a safety warning to travellers intending to visit Sweden.
In a tongue-in-cheek segment on the TV show, presenter Jesper Rönndahl said he wanted to restore the good relationships between the two nations, so created the information film.
He explained that since the Beijing regime has banned Facebook, Instagram and YouTube, the programme had posted it on Chinese video hosting site YouKu.
The clip told visitors not to shit in public places, explained that dogs were pets not lunch, and pointed out that there are 'blacks, Jews, Arabs and even homosexuals in Sweden because in Sweden we support the principle of equal rights for everyone'.
But it concluded: 'If you can't behave well, we will kick your ass.'
The Chinese embassy in Stockholm has now demanded an apology and accused Rönndahl of 'spreading and advocating racism and xenophobia'.
A Foreign Ministry spokesman said Rönndahl's comments were 'full of discrimination, prejudice and provocation against China and other ethnic groups, completely deviating from professional media ethics'.
They are also angry that a map of China used in the programme did not include Taiwan and Tibet, territory that Beijing controversially claims.
Thomas Hall, the programme manager at state broadcaster STV, has refused to apologise, saying they have done nothing wrong. 'I think it is so apparent that this is comedy,' he said.
When John Oliver criticised Chinese President Xi Jinping on Last Week Tonight last year, the comic was effectively erased from he internet in China, so he could not be found.
Here's the offending clip:
Here's the original story from Chinese state-owned broadcaster CGTN
Published: 24 Sep 2018
Recent News
What do you think?