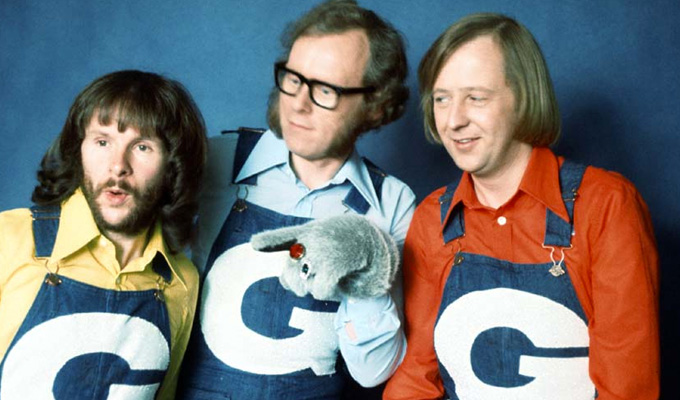 Goodies repeat their complaint... about a lack of repeats
The Goodies have again complained that the BBC doesn't repeat their hit 1970s comedy.
But while they acknowledged that some of the humour might not have stood the test of time – a black Muslim who called Rastus P Watermelon especially – Bill Oddie told The Mail on Sunday that the only viewers who found The Goodies offensive were 'white liberals'.
'Or stupid people,' Graeme Garden added.
He also told the paper sardonically: 'When fans have written in asking why they aren't repeating The Goodies, the BBC always reply saying they're looking forward and want to invest in new comedy. So, I thought, "Well, that means we won't be getting the 6pm Dad's Army slot then.'
Completed by Tim Brooke-Taylor, the trio attracted 12 million viewers in their heyday.
But Oddie says: 'We never made much money from The Goodies. I can't remember what the BBC were paying us but it wasn't that generous.'
Which might explain why repeat fees would come in handy.
In 2010, BBC repeated the show for the first time in more than 30 years, with eight shows attracting between 500,000 and 1million viewers in a late-night time slot.
And in 2015 Oddie complained that the Goodies were not made available on the BBC's now-defunct online store.
The trio were speaking to The Mail on Sunday to promote a new DVD box set out next week and featuring 12 discs of their BBC, but with a £60 price tag. Order.
Published: 16 Sep 2018
What do you think?