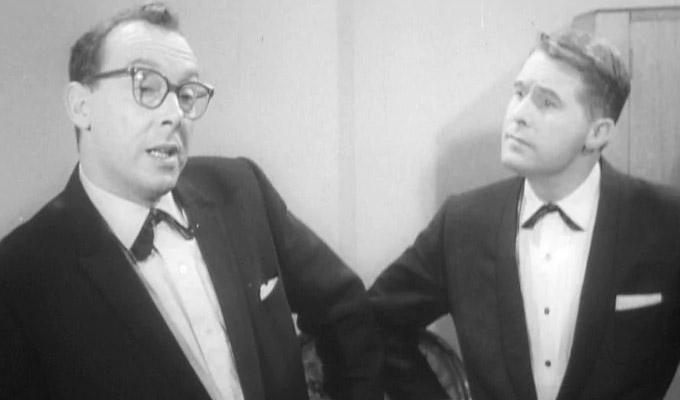 Unearthed: Morecambe and Wise's anti drink-drive film
A public information film featuring Morecambe and Wise warning of the dangers of drink-driving has been unearthed after more than 50 years.
Originally airing in Christmas 1963, the previously unknown short has Ernie telling Eric to 'be wise' and not drive home after their Christmas party – where he was going to look for 'a nice little blonde'.
The 90-second video, made for the Central Office of Information, was discovered in a box of 35mm films of 1960s cigarette advertisements found when Ulster Television moved to new premises in Belfast.
Eric Morecambe's son Gary, who has written several books about his father, said: 'I thought I'd seen every possible recording of Morecambe & Wise, so was both surprised and delighted by this recent discovery.'
On Saturday, the film is to be screened at the BFI on London's South Bank as part of celebrations marking 30 years of its Missing Believed Wiped programme, which has showcased TV material rediscovered by archive organisation Kaleidoscope.
The body has more than 750,000 items at its collection in Birmingham, including the archives amassed by film and broadcast buffs Bob Monkhouse and Jeremy Beadle.
Ulster TV handed over 26 large packing crates of material they couldn't accommodate in their move. Kaleidoscope's Chris Perry, said: 'I've been doing this for 30 years and this is the first time I've come across missing Morecambe and Wise footage.'
Tickets for the BFI's two Missing Believed Wiped sessions at 1pm and 3pm are available here. The Morecambe and Wise film will be screened as part of the second batch.
Published: 6 Aug 2018
What do you think?