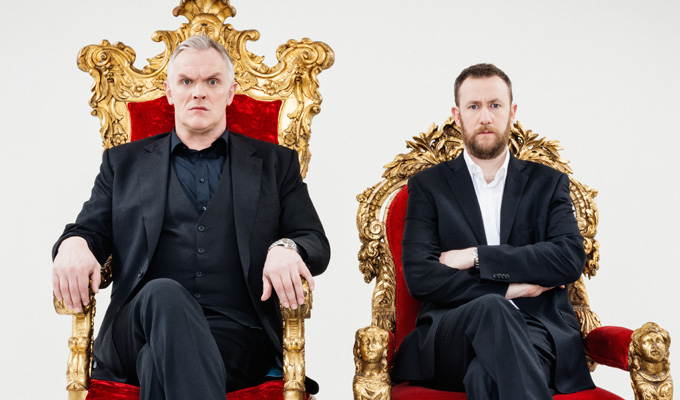 Virgin Media customers to lose Dave and Gold
Millions of Virgin Media customers are set to lose comedy channels Dave and Gold this weekend.
A dispute between broadcaster UKTV and the cable carrier will mean its 5.9 million customers will not be able to watch original shows such as Taskmaster, Jon Richardson:Ultimate Worrier, Red Dwarf and the forthcoming Judge Romesh as well as reruns of the likes of Blackadder, Porridge and Outnumbered.
The channels are set to disappear from Sunday.
The broadcaster blames a cut in the fees Virgin is prepared to pay to carry the channels, while Virgin says it cannot get the on-demand rights it needs from UKTV's co-owner, the BBC, branding it a 'linear dinosaur in an on-demand modern world'.
In a statement released tonight, the company – which has 5.9 million cable customers – said: 'Virgin Media has had a long relationship with UKTV, but viewing behaviours amongst our customers are changing and we are committed to investing in the kind of programming they want to watch, whenever and however they want to watch it.
'Unfortunately, due to the restrictions put on UKTV by the BBC, UKTV is not able to provide the significant on-demand programming that we know our customers want so we have invested elsewhere.'
To replace the missing channels, Virgin is offering its premiere sports channel for free for two months, and adding US import channel Paramount Network, new freeview channel YouTV focussing on real-life stories, gameshow channel IQTV and Love Nature.
There is very little comedy in the replacement offering, although Paramount Network has the rebooted Will& Grace, Lip Sync Battle US, and cancelled Fox sitcom The Mick.
Darren Childs, chief executive of UKTV, said: 'We want to continue to provide our channels to Virgin Media, but the huge cut in fees that Virgin has requested doesn't reflect the value we bring to customers.
'UKTV's channels account for over a quarter of pay entertainment channel viewing within Virgin Media's basic subscription pack, while our on demand viewing has grown by over a third in the last year.
'The money we receive from platforms helps to pay for our record investment in high-quality programmes, which we increased to more than £150 million in the last year.
'If our ten channels, including Dave, W, Gold and Alibi, are no longer available through Virgin, we will be hugely disappointed for the millions of customers who will lose out. We'll keep working with other platforms to bring viewers the drama, comedy and documentaries they love.'
UKTV said they were prepared to offer Virgin customers an increased range of on-demand catch-up and boxsets and an additional channel, Gold HD.
The broadcaster's suite of channels also includes Drama, Yesterday, Eden, Good Food and Home.
Published: 20 Jul 2018
What do you think?