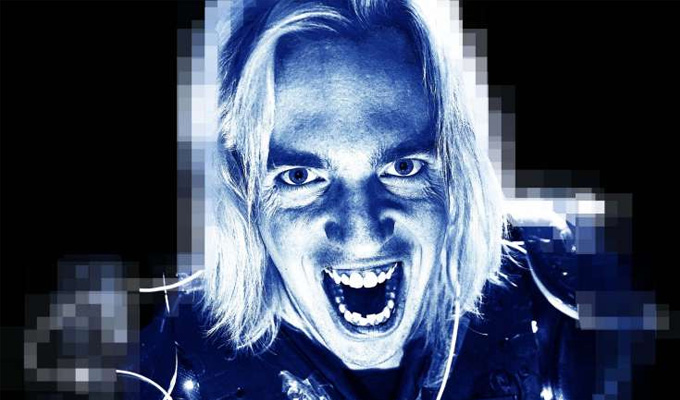 New comedy label reveals its TV projects
Two leading TV executives have set up a new comedy production label, with a slate of new shows already in development.
Already on the slate of Hare And Tortoise are:
An adaptation of the cult blog Welcome To Scarfolk, which creator Richard Littler is work on with comedian Veep writer Will Smith. Scarfolk is described as a' terrifyingly topical dystopian comedy drama that refracts the world as it is today through a horrifying kaleidoscope of 1970s culture and attitudes'.
A TV version of comedian John Robertson's Fringe hit The Dark Room, pictured, giving the interactive comedy anti-game a high-tech power-up for the screen.
A show based on comedian Jessica Thom's work as Touretteshero, her project aimed at increasing awareness of Tourette's Syndrome, which she suffers from. Veep and The Thick Of It writer Georgia Pritchet and regular Touretteshero collaborator Matthew Pountney are also working on the script.
Helmets, a new mainstream comedy co-created by former policeman Dan Clark-Neal – husband of Celebrity Big Brother host Rylan – and the comedy writing team of Claire Downes, Stuart Lane and Ian Jarvis, who were behind In The Long Run, The Job Lot, and Carters Get Rich
Hare and Tortoise is part of the giant Freemantle Media group, and will be headed by managing director Jon Rolph and creative director Claire Nosworthy.
It replaces the former label Retort, which was also headed by Rolph, and which made shows including Count Arthur Strong, Chewing Gum, Birds of A Feather and The IT Crowd.
Nosworthy has most recently been an executive producer on factual entertainment series, including Britain's Best Home Cook, The Big Painting Challenge and MasterChef.
Rolph, said: 'Claire has an enviable reputation as a creative executive producer on some of television's biggest formats, but we both started our TV careers making a panel game in Norwich. She still has the same instinctive understanding of comedy and comedy talent as she had then. Together as Hare and Tortoise we'll be fleet of foot and robust of shell in the race to deliver the best new shows.'
Nosworthy added: 'Comedy is full of unlikely double acts, and as Hare and Tortoise we will be looking to foster many more great partnerships. Just as audiences do, we'll happily cross genre boundaries in search of great characters and great stories, mixing and matching scripted comedy, comedy entertainment, funny factual and light drama to create projects with humour at their heart.
The new label has also today announced a first look deal with one of the UK's most successful comedy producers, Gill Isles – whose credits include Car Share, Detectorists and Man Like Mobeen – to develop new comedy series from her base in Manchester.
She said: 'In the spirit of their new double act, I see myself as Schnorbitz to their Mike and Bernie Winters.'
Published: 19 Jul 2018
Recent News
What do you think?