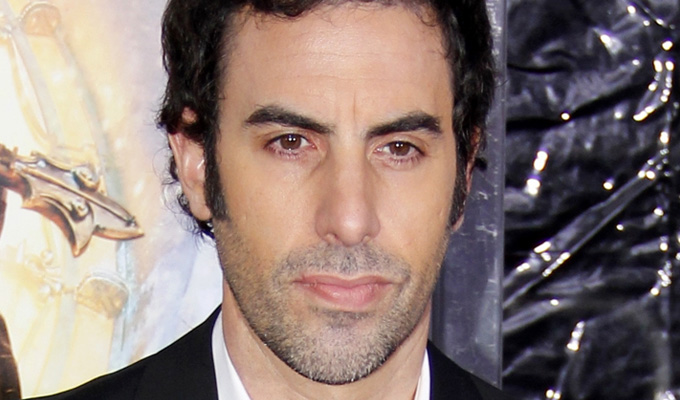 Sacha Baron Cohen's new show comes to the UK
Sacha Baron Cohen's satirical new US interview series is to air on Channel 4.
Who Is America? was confirmed today as the project the Borat star has recently been teasing on social media.
Written and directed by Baron Cohen, the seven episodes series will begin on the Showtime cable channel in the States from this Sunday, before screening on Mondays in the UK.
A new teaser trailer, which appears to feature the comedian adopting a Middle Eastern accent to coerce former US vice-president Dick Cheney into signing a waterboarding kit was also released today, as his heavily trailed return to television for the first time in over a decade was officially announced.
8 July 2018
Who Is America? is believed to feature Baron Cohen interviewing real people as fake characters, pledging to 'explore the diverse individuals, from the infamous to the unknown across the political and cultural spectrum, who populate the unique nation'.
Baron Cohen previously posted a teaser on July 4, featuring real footage of Donald Trump attacking him, followed by the caption: 'He's back. As you've never seen him before.'
He had tried to interview the president in his guise as Ali G, but Trump walked out because he saw it as a 'scam.'
Showtime president David Nevins said: 'Sacha is a comedic genius who shocks you with his audacity, bravery and inventiveness. He is the premier provocateur of our time, but not for the sake of 'gotcha' moments. Behind the elaborate setup is a genuine quest for the truth about people, places and politics.
'Nobody knows how to cause a stir like Sacha Baron Cohen, and it's going to be fascinating to watch what happens when Who Is America? is released on the world.'
Baron Cohen is also said to be attached to a project called Greed, about the lavish lifestyles of the super rich. Directed by The Trip's Michael Winterbottom, it revolves around a cut-throat retail billionaire supposedly based on disgraced BHS tycoon Philip Green.
In February, it was reported that the comedian paid convicted armed robber OJ Simpson £15,000 to lure him to a hotel room as part of a prank for an undisclosed new project.
Who Is America? is created and executive produced by Baron Cohen and is also executive produced by Anthony Hines, Todd Schulman, Andrew Newman, Dan Mazer and Adam Lowitt.
By Jay Richardson
Published: 9 Jul 2018
What do you think?