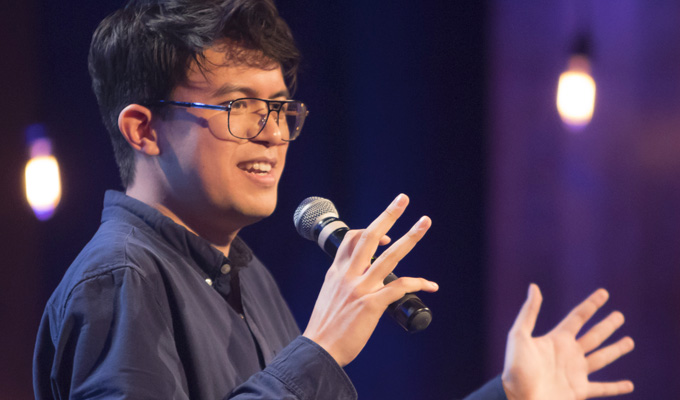 Fifteen minutes of fame
The week's best comedy on demand.
The Comedy Lineup
Unconstrained by schedules, streaming shows can be as long as they need to be, which allows Netflix's latest stand-up strand to offer comedy club style 15-minute sets, rather than the hour or so of the traditional special.
It's a good way of introducing their massive global audience to newer acts beyond the megastars who gobble up the big bucks – while allowing up-and-comers top showcase their best sets without fretting about how to maintain attention for the full 60 minutes.
Brits will no doubt head for Phil Wang first, with his smart and droll take on Asian stereotypes; but all the comics have something to commend them. We'd single out Taylor Tomlinson for her very pertinent routine on women's safety.
Watch on Netflix here.
Sindhu Vee: Sindhustan
Speaking of 15-minute comedy specials, Indian-born, British-based stand-up Sindhu Vee made her Radio 4 debut this week with the first of four quarter-hour shows.
In the first she talks about being trapped between multiple generations of her family, with her parents, her in-laws and grandkids all living with her.
Sindhustan was heavily promoted on the station, which is certainly a vote of confidence in their new signing. Listen here
BBC New Comedy Award
Vee came to the attention of Radio 4 producers through the BBC New Comedy Award, one of the most heavily contested of the new act competitions.
2018's heats kicked off a couple of weeks ago, leading up to a final at the Edinburgh Fringe, and have just started going out on Radio 4 Extra of a Friday night. Listen to yesterday's here
Comedians in Cars Getting Coffee
Jerry Seinfeld's series is back for a tenth series, and the first made for Netflix, with guests including Dave Chappelle, Zach Galifianakis, Kate McKinnon, Tracy Morgan, and Ellen DeGeneres.
An interesting review on Vulture finds the inherent privilege of Seinfeld's obsession with minutiae – not to mention his attitude to keeping personal truths out of comedy – out of step with modern times. And even Galifianakis calls it 'lazy, car-based non-comedy'.
But the affable guests and host, bounded by the love of their art form, still make for the most pleasant company. Watch here.
Like many comedians, Rosie Wilby – who wrote the book Is Monogamy Dead? – spends a lot time speaking about relationships. And this monthly podcast, inspired by the time she was dumped by email, is all about when they end, seeking to find laughs in the heartbreak.
It features a rotating line-of of fellow comics, and this latest episode is the first one recorded live, at Kings Place in London last month. It features Brett Goldstein and Sofie Hagen. Listen here
Published: 7 Jul 2018
What do you think?