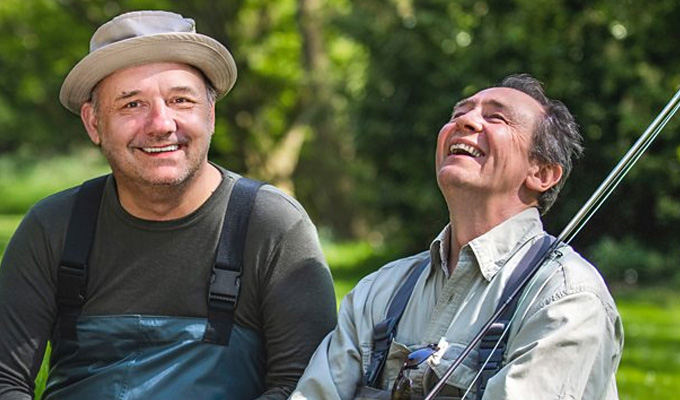 You've got to have an angle..
The best of the week's comedy on TV and radio.
Sunday June 17
ATLANTA: Donald Glover's astute, gritty and funny comedy-drama set on the Atlanta rap scene returns for a second series, kicking off with a robbery at a fast-food joint that's actually a drug front. Fox, 10pm
Tuesday June 19
LAUGHTER IN PARADISE: Alastair Sim and George Cole star in this 1951 comedy about a wealthy practical joker who leaves a fortune of £50,000 to each of his four surviving relatives provided they complete tasks that are completely at odds to their nature. Joyce Grenfell and Dad's Army's John Laurie also have small parts. talking Pictures TV, 11am
THE LATE LATE SHOW James Corden brings his hit talks show back to London. her, Cate Blanchett, Orlando Bloom, Niall Horan and Foo Fighters will be among those joining him at Central Hall Westminster over the week. Sky One, 10pm
Wednesday June 20
MORTIMER & WHITEHOUSE: GONE FISHING Already long-term friends, Paul Whitehouse and Bob Mortimer joined forces for this show after suffering serious heart problems. Paul is an experienced angler who thought a tour of the UK's finest fishing spots might help Bob's recovery. They share stories from showbusiness to solitude, relationships and romance, while trying to catch some of the most significant species of fish in the country. And talk a lot of bullshit. In the first episode they are in Norfolk fishing for tench, staying in a yurt, and sharing nostalgia for their younger years. BBC Two, 10pm

Friday June 22
THE LAST LEG: Adam Hills, Josh Widdicombe and Alex Brooker return for, incredibly, the 14th series of the show. Channel 4,10pm
Published: 17 Jun 2018
Recent News
What do you think?