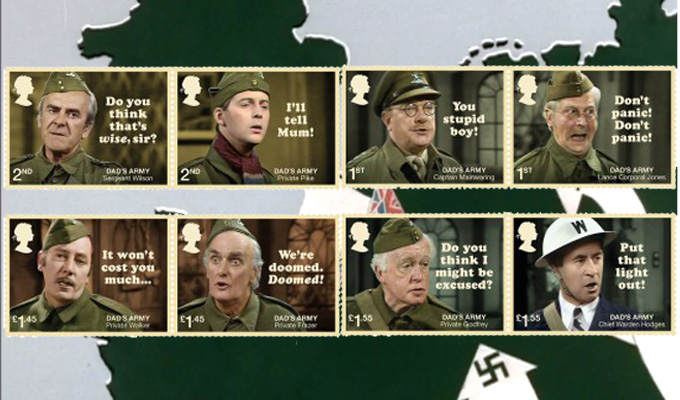 Royal Mail issues Dad's Army stamps
The cast of Dad's Army are to be immortalised in a new set of stamps.
Royal Mail is to issue eight stamps on June 26 to mark 50 years of the classic sitcom, which first aired on the BBC on July 31, 1968.
It is the first time the Royal Mail has issued a series dedicated to a sitcom
The two second-class stamps will feature John Le Mesurier as Sergeant Wilson, with the quote: 'Do you think that's wise, sir?' and Ian Lavender's Private Pike, saying: 'I'll tell mum'
Lavender, the only surviving member of the original platoon, said it was an 'unexpected' and 'overwhelming' honour to be on the stamps.
The two first-class stamps will show Arthur Lowe's Captain Mainwaring with 'You stupid boy!' and Clive Dunn's Lance Corporal Jones and his catchphrase: 'Don't panic! Don't panic!'
There are also two £1.45 stamps, showing Private Frazer (John Laurie) saying: 'We're doomed. Doomed!' and spiv Private Walker (James Beck) saying: 'It won't cost you much.'
Finally, there are two stamps at £1.55, showing Private Godfrey (Arnold Ridley) asking: 'Do you think I might be excused' and Chief Warden Hodges (Bill Pertwee) ordering: 'Put that light out!'
Philip Parker, of Royal Mail, said: 'Few TV comedies have inspired as much affection, or given us as many catchphrases, as Dad's Army. We hope these new stamps will raise plenty of smiles.'
Published: 12 Jun 2018
Recent News
What do you think?