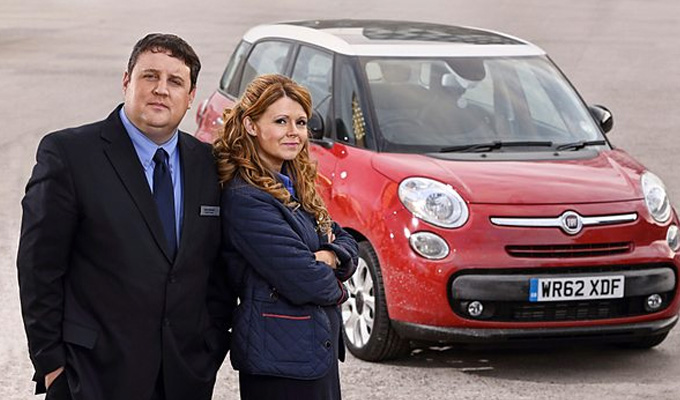 4.4million see Peter Kay's Car Share
The improvised episode of Peter Kay's Car Share attracted 4.4million viewers to BBC One last night – the second lowest overnight ratings the comedy has attracted so far.
But the episode went out in a later slot – 10pm as opposed to 9pm or 9.30pm – and on a sunny bank holiday evening when the total number of people watching TV was smaller than normal, which means its audience share of 28.5 per cent was its second highest.
The episode appeared to split opinion, with some fans loving it and some saying it showed the need for a script.
In her review in the Guardian, Julia Raeside wrote: 'The best bits of this comedy experiment starring Kay as John, and Sian Gibson as his work colleague Kayleigh, turn out to be the pre-planned elements, often leaving the ad-libbed material stalled at the traffic lights.'
And cultural historian Dr Fay Bound Alberti accused the show of transphobia over a gag about a man who came out as transgender and was beaten up by thugs because he couldn't 'run in heels'.
She wrote: 'Man wears a dress, wife finds out, man is beaten and ends up in a coma while "real men" laugh? It's 2018 not 1950. Transgender people are experiencing an unprecedented level of violence around the globe. Shame on Peter Kay for channelling #transphobic ignorance.'
Comedy also did well for Channel 4 earlier in the weekend with Friday Night Dinner attracting 1.7million viewers.
That's more than every episode except the 2011 opener, and well above the average for the 10pm Friday slot.
However, the audience did not stick around for Mark Wootton's castaway comedy High and Dry immediately afterwards. It was seen by 490,000, people, less than half the slot average.
The final scripted episode of Peter Kay's Car Share will air next bank Holiday Monday, May 28.
Published: 8 May 2018
What do you think?