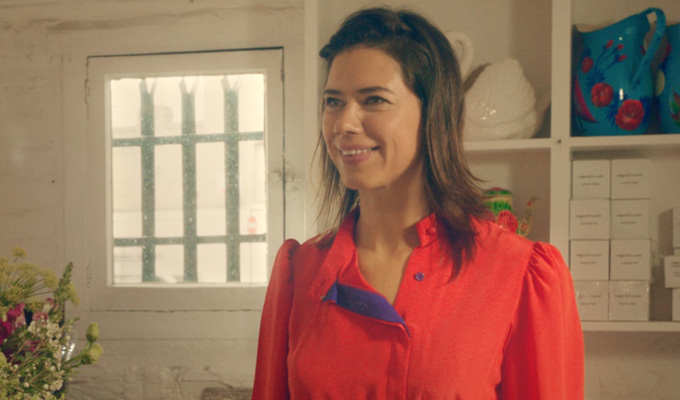 A blossoming romance...
This week's comedy on demand…
Elderflower
This charming kinda romcom short stars Lou Sanders as Emily, who has just started her own business as a florist, in premises which used to be a different sort of business entirely. But then she sets two unlikely customers up on date and wonders if there might be a lucrative sideline to be had…
The 14-minute film, selected as Vimeo's Short of the Week this week, features a raft of comedy talent including Tom Rosenthal, Sheila Reid, Ingrid Evans, Mike Wozniak, Tony Law, Marek Larwood and Toby Williams. It's directed by Ben Mallaby, who recently made the BBC Three series Climaxed, and Sanders co-wrote with Hannah George.
Spike Milligan: Assorted Q
To mark what would have been his 100th birthday, BBC Four recently repeated this compilation of surviving sketches from Spike Milligan's pioneering sketch shows. Two half-hour collections of his surreal, influential, controversial and sublime work are available now on iPlayer
This Sounds Serious: The Case of Daniel Bronstadt
This new take on true crime podcasts gets the genre spot-on. We are transported to 2017 Florida, where a local weatherman is found dead in his water bed. His twin brother calls 911 to report the murder, which sets off a shocking series of events involving cults, boy bands, horses, and mistaken identity…
However its Canadian creators Chris and Pat Kelly are not after a broad parody of podcast tropes, but instead use the template to create a strong narrative draw. While the situations described are often ridiculous, the cast approach them with an undue reverence to add to the serious mood.
It's available on iTunes and other podcast providers.
Anne Edmonds: That's Eddotainment
She was just nominated for best show at the Melbourne International Comedy Festival, now Edmonds' acclaimed 2016 stand-up special has been put up on subscription service NextUp. A mix of the dark and the dumb, with some tragi-comic character sketches, this is a look at the desperation behind suburban normality, with a raucous goofball as our guide.
Here is our review of the original live show.
Bill Hicks: Relentless
Also new to NextUp is 'dark poet' Bill Hicks's legendary second special, recorded during 1991's Just for Laughs Comedy Festival in Montreal and rightly still regarded as one of the great stand-up performances of all time, with Hicks delivering his hard-edged opinion delivered with unshakable conviction and the fiery passion of a preacher man.
Man on the Moon
Jim Carrey's 1999 biopic of Andy Kaufman is now available on iPlayer, thanks to BBC Three, giving one version of the complicated, troubled life of a comedian for whom the boundaries of reality and stage performance were often blurred.
And once you've watched this, the recent Netflix documentary Jim & Andy contains some eye-opening behind-the-scenes footage showing what lengths Carrey went to in order to get inside the tangled mind of his comedy hero – which fittingly fudges the distinction between truth and myth, too.
All four seasons of the stand-up's Emmy- winning series, which ran from 2013 to 2016, were made available on Sky Box Sets this week, just as her movie I Feel Pretty hits cinemas.
A Little Help With Carol Burnett
The comedy icon returns to our screens with this Netlix series, with each episode featuring a panel of kid who help adults and celebrity guests solve their problems with brutal honesty.
Published: 5 May 2018
What do you think?