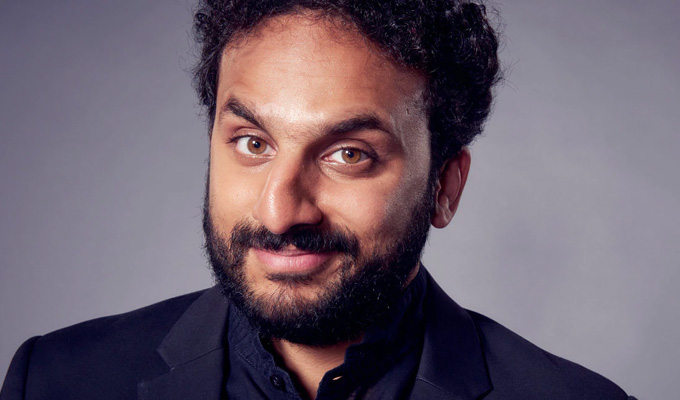 Lads on tour!
Half a dozen comedians have revealed new tour dates over the past week. Here's a quick rundown of what's been announced.
• Mash Report host Nish Kumar has announced a new tour. Taking its title,  It's in Your Nature to Destroy Yourself, from Terminator 2. the show promises jokes about politics, mankind's capacity for self-destruction and the end of days. A total of 19 dates have been announced for the autumn after a work-in-progress run at the Edinburgh Fringe. Dates and box office links
• Geoff Norcott, Kumar's sometime colleague on the Mash Report, has extended his tour of Traditionalism, with an extra 21 dates this autumn. One of the few openly Tory acts on the crircuit, Nortcott has also recently recorded a BBC Radio 4 special, Right Leaning but Well Meaning, due for transmission in May.  Tour dates
• Hal Cruttenden has extended his UK tour into 2019 with 22 extra dates. The show, which also launches at the Edinburgh Fringe, was given its title by Cruttenden's teenage daughters. Schedule
• Abandoman has announced a new improv rap comedy tour. Frontman Rob Broderick has previously been accompanied by musicians, but this time is performing solo, using a necklace of sample pads to trigger the beats and hooks he freestyles over. He will be playing 20 UK and Ireland and cities in October and November. Schedule.
• Comedian, blogger and author Sam Avery is taking his show The Learner Parent out on a UK tour from October until March, inspired by his experiences as a father of Twins. Dates.
• The Thinking Drinkers – aka Ben McFarland and Tom Sandham – have announced an autumn/srping tour of their new show Pub Crawl, in which every audience member tastes five drinks . It's an exploration of history's greatest drinking establishments, whch they say is 'specially pertinent' given the fact that 18 pubs are closing every week. Schedule.
Check Chortle's extensive On Tour section for listing of more than 100 upcoming comedy tours.
Published: 2 May 2018
Recent News
What do you think?