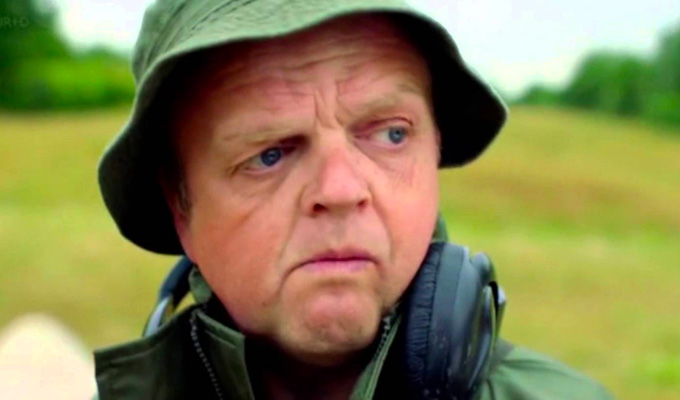 Dark new comedy from Detectorist star Toby Jones
Detectorists star Toby Jones is to star as a Bognor Regis coach driver in a new dark comedy he has created for BBC Two.
The actor has teamed up with playwright Tim Crouch to write Don't Forget The Driver, which has been commissioned for a six-part series.
He said: 'We hope that Don't Forget the Driver will be an unusually funny drama about smalltown Britain and the joys of coach travel.'
His character, Peter Green, lives a life of ordinary routine: 'clip-on ties, limp packed lunches, vehicle checks, roundtrip coach journeys ferrying church groups to donkey sanctuaries and Japanese tourists to Canterbury Cathedral'.
But he is also a single dad coping with his disaffected daughter Kayla and caring fur his mum Audrey, whose life is descending into confusion and fear.
His quiet life is thrown into chaos with the discovery of a dead body on the Bognor shoreline and 'an unsettling meeting with a new arrival in town'.
Shane Allen, the BBC's controller of comedy commissioning, said: 'This irresistible piece explores big rich themes about identity - both personal and national. It feels very timely in this climate of introspection and transition.
'Shot through with heart and humour it will continue to cement BBC Two's reputation as the place to deliver poignant, mature and highly resonant comedy drama starring the cream of British comedy writing and acting talent.'
BBC Two controller Patrick Holland added that the series was 'a brilliantly woven story of humanity and unexpected consequences'.
He added: 'Comedy can misfire when it takes on the big issues of the age but this series with the unrivalled Toby Jones is so human, so rooted, so warmly funny, that it illuminates, enriching our understanding.'
Don't Forget The Driver is being made by independent production company Sisters Pictures, the makers of Broadchurch and Channel 4 comedy Flowers.
Published: 30 Apr 2018
Recent News
What do you think?