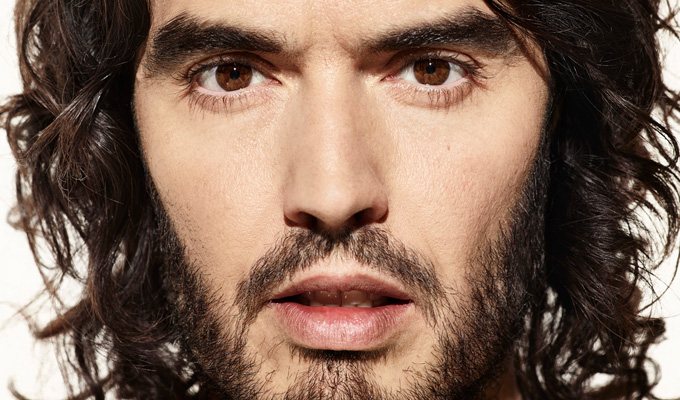 Russell Brand pulls all his tour dates
Russell Brand has pulled the rest of his tour to be withr his 71-year-old mother Barbara, after she was hurt in a serious car accident.
In a video posted on Twitter, he said: 'My mum's been in a really serious road accident and has sustained what are being called "poly-traumatic injuries", that means numerous, life-threatening injuries, so I won't be able to do the rest of my Re:Birth tour.
'If you've got tickets they'll be refunded or possibly rescheduled but I can't really imagine that. I can't really imagine performing at the moment, I feel too sad and too connected to this. I apologise, but obviously it's circumstances beyond my control.'
Thanks for your kind messages.
ReBirth delayed or cancelled due to my Mum's accident. pic.twitter.com/iSW3RG9Esu

— Russell Brand (@rustyrockets) April 30, 2018
Mrs Brand was injured on Thursday in a hit-and-run accident in Essex. She was being chauffeur-driven to the comedian's home to babysit his 18-month-old daughter, Mabel, when the Audi A8 she was travelling in collided with a Vauxhall Astra.
The Sun reported that she was pulled from the car with blood coming from her nose and on the back of her head before being taken to hospital.
According to the newspaper, the Astra driver then fled the scene in a second vehicle which was following his car. Police are now trying to track him down.
Mrs Brand has survived cancer six times, and in his message, Russell said: 'I'm sad for my mum because she's vulnerable; she only finished chemotherapy treatment a month ago and for her to be in this situation is very difficult.
'The man who was driving, a friend of mine, Taz, is making a good recovery'
The comedian also praised the 'phenomenal' NHS, which he called 'the soul of this country, where people are benevolent and kind and doing something valuable for a living.'
He also said he wouldn't be on social media for some time and thanked fans for their positive messages of support.
The comic had ten more Re:Birth dates scheduled for next month, including the Manchester Apollo tomorrow.
Published: 30 Apr 2018
What do you think?