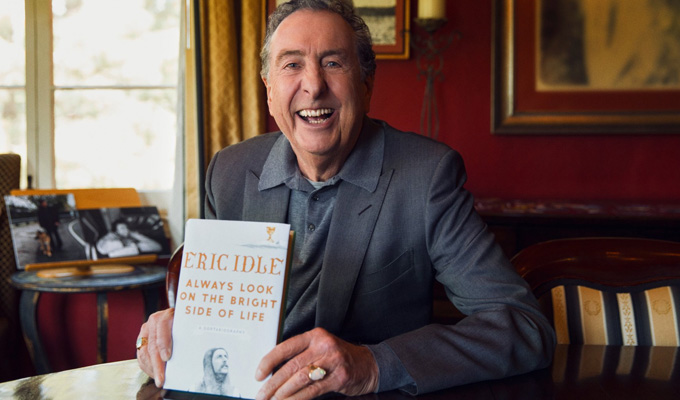 Eric Idle to release his memoirs
Eric Idle is writing his memoirs, entitled Always Look On The Bright Side Of Life: A Sortabiography.
To be released in October, the book will cover his life from childhood in an austere boarding school through his successful career in comedy, television, theatre and film.
Anecdotes will include stories from his friendship with the likes of George Harrison, David Bowie, Robin Williams, Mick Jagger, Steve Martin, Paul Simon and Mike Nichols as well as his fellow Pythons.
Idle has previously written several books, including his US tour diary The Greedy Bastard Diary: A Comic Tour Of America in 2014 and novels including The Writer's Cut in 2015 and Road To Mars in 2000, this is his first autobiography.
Every other Python has previously written their memoirs, too, except for Terry Jones who is now suffering from dementia.
Idle said: 'I thought it was time to tell my tale before I suffer from Hamnesia, which is what happens to elderly actors.'
Alan Samson, from publishers Weidenfeld & Nicolson told trade website The Bookseller: 'Eric's wonderful autobiography is laugh-out-loud funny, honest, insightful and emotionally intelligent.
'It also has a helpful summary at the beginning: "Life has a very simple plot. First you're here and then you're not."'
'His book also illuminates the formation and development of the Monty Python team who redefined comedy nearly 50 years ago. We are all thrilled to be publishing Eric's brilliant memoir.'
Idle has also released a video announcing the news:
Here is today's announcement! Always Look on the Bright Side of Life. Coming this October. #OnTheBrightSide Preorder here: https://t.co/IVaoRQyR9S pic.twitter.com/EQxwZtMSeT

— Eric Idle (@EricIdle) April 25, 2018
Order the book here.
Published: 25 Apr 2018
What do you think?