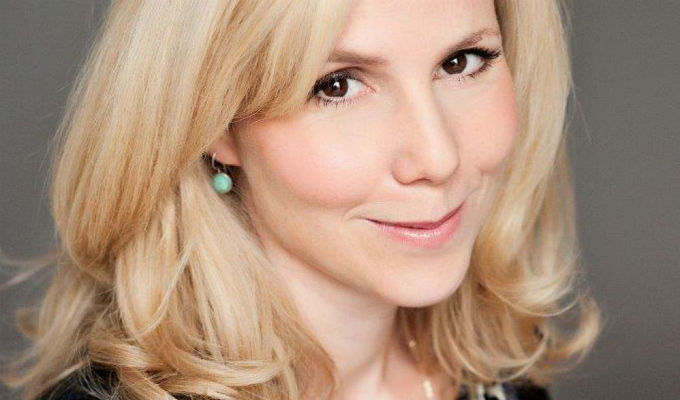 Sally Phillips to star in new BBC mockumentary
Sally Phillips is to star in a BBC mockumentary about the Welsh tourist board, Chortle can reveal.
The Tourist Trap also features comics Elis James, Mike Bubbins and Leroy Brito and is set to air this autumn on BBC Wales.
Written by Gareth Gwynn and stand-ups Sian Harries and Tudur Owen, the semi-improvised TV comedy is made by the same team as BBC Scotland's police mockumentary Scot Squad and BBC Northern Ireland's customs mockumentary Soft Border Patrol
Shooting starts on the series today, and last months Phillips tweeted: 'Ahh Wales. Was it last year the Welsh Tourist Board tried to sell it as a destination full of special mud?'
James previously acted as a something of a tourist guide for Miles Jupp, showing The News Quiz host around his homeland in last year's BBC travelogue James and Jupp.
Bubbins is also adapting his BBC Radio Wales comedy, The Unexplainers, for television. The show, in which he and John Rutledge, aka rapper Eggsy from Goldie Lookin Chain, investigate unexplained mysteries, is currently being filmed for BBC Wales to air later this year. There have been three series on the radio, with a fourth to follow soon.
Bubbins tweeted: 'What a week in West Wales recording an episode for @theunexplainers TV series! What did we do? What did we see? What is M.O.B.I.L.E.H.O.M.E.3000? How much of a berk is @EggsyGLC?All will be revealed...soon. #D2B'
The Tourist Trap will be launched with a spin-off programme on BBC Radio Cymru and is part of a wider comedy season that will feature new sitcom pilots, written and developed by new writers discovered via BBC Wales's Find Me Funny scheme.
The initiative is part of a £8.5million a year boost to Welsh programming promised by the BBC.
Paul Forde, who has just been appointed commissioning executive for comedy at BBC Wales said: 'Securing a top comedy talent like Sally for The Tourist Trap demonstrates just how serious we are about getting this right from the outset.
'In addition, the Find Me Funny scheme has uncovered new Welsh comedy writing talent and we're keen to start developing them over the coming months.'
Nick Andrews, head of commissioning for BBC Wales added: 'Last year, BBC Wales announced a package of investment in new comedy and seeking out new talent, and we're looking forward to seeing the fruits of that investment appear on our screens this year. We've done a lot of informing and educating over the past decade, it's time to get entertaining.'
The Tourist Trap is directed by Keri Collins with Rab Christie producing for Glasgow-based The Comedy Unit.
- by Jay Richardson
Published: 23 Apr 2018
What do you think?