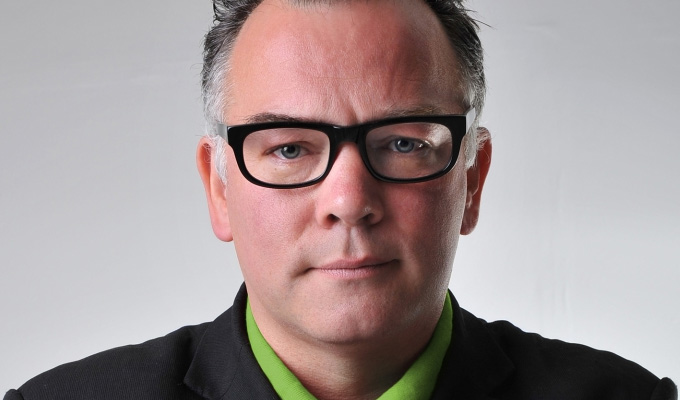 Stewart Lee takes a long pause... from stand-up
The best of the week's live comedy.
Monday April 16
LONDON: Podcast pioneer and searingly self-analytical comic Marc Maron makes a visit to the UK with his latest show, A Few Parts Of The World, at the Royal Festival Hall. He's had his own sitcom and plays a sleazy impresario in Netflix's wresting show Glow, all from his roots in stand-up. Tickets to tonight's show are still available here.
SALFORD: Also hopping across the Atlantic is US comic Iliza Shlesinger, playing the Lowry tonight, London's Queen Elizabeth Hall on the South Bank tomorrow, Birmingham's Glee Club on Wednesday and Dublin's Vicar Street on Thursday. Originally from Dallas, she rose to prominence on NBC's reality show Last Comic Standing, where she became the only female comedian to win the series. Last year, Shlesinger hosted her own late night talk show on America's Freeform channel and had her first book Girl Logic: The Genius and the Absurdity published.
Tuesday April 17
LONDON: Inventive Edinburgh Comedy Award nominee Jordan Brookes presents a 'best of' show – or, in the words of the title, his 'least worst bits' at the Hen and Chickens in Islington.
Wednesday April 18
LONDON: The incurably grumpy Michael Legge makes his Soho Theatre debut for four nights of 'screaming about how awful his life is and you are' in his latest show, Jerk.
LONDON: As Chortle revealed back in February, Russell Brand's latest stand-up show, Re:Birth, about how fatherhood has changed him, is coming to Netflix. The special is being recorded over two nights, today and tomorrow, at the Hackney Empire.
MANCHESTER: Comic Jarlarth Regan, from the hit Irishman Abroad podcast, brings his show Organ Freeman to the Frog & Bucket tonight. It's about him donating a kidney to his ailing brother. Review
Thursday April 19
LONDON: After almost two years on the road, Stewart Lee's Content Provider tour signs off with three nights at the Royal Festival Hall, tonight, tomorrow and Monday. After performing these shows, he intends to take the longest break from stand-up he's had since his four-year absence at the start of the century.
LONDON: An eclectic bill comes together at the Union Chapel in Islington for a benefit the Farm Africa charity, including ever-creative Simon Munnery, the hyper charged and hyper-funny Felicity Ward, and delightfully droll Arthur Smith.
Friday April 20
LONDON: All killer, no filler at Plosive Comedy's night at Alleyn's School in Dulwich. Master audience manipulator Adam Riches, stoner social commentator Jamali Maddix, oddball Paul Foot and super-charismatic Suzi Ruffell grace the fine bill.
HARLOW: New Plebs cast member Jon Pointing brings his acclaimed solo show, Act Natural, to the Playhouse. Read our review here.
Saturday April 21
LONDON: Dave Gorman's Screen Guild - a mixed bill of comedy curated by… well, you can probably figure that out, returns to the Hoxton Hall. Tonight's guests are Travis Jay, Ahir Shah, Muriel and Flo & Joan.
• Search our full listings for comedy near you using the pull-down menus on the left of this page.
Published: 15 Apr 2018
What do you think?