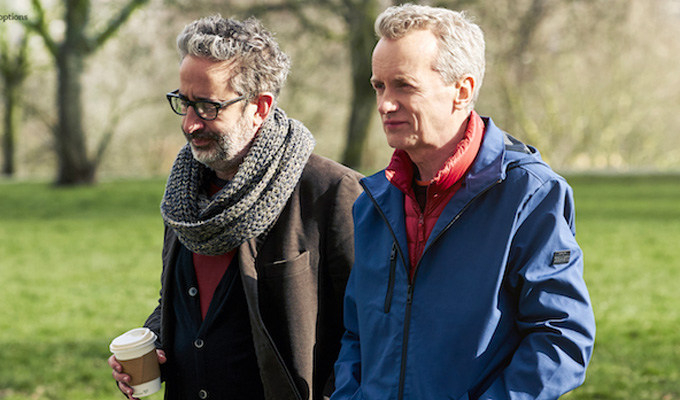 Baddiel and Skinner reunite
They were once synonymous with laddism but Frank Skinner and David Baddiel have reunited … to offer pensions advice.
The pair appear in two 30-second commercials for Pension Wise, the Government's pension guidance service.
In one of the meta ads, which air across Sky's 150 channels, the comics are shown walking through a park together, with Skinner reading out the job offer for them to appear in the campaign, which Baddiel declines.
'We've been chosen because we're old, as you can see' the 53-year-old said. 'I should say, by the way, we don't actually provide the pensions advice. Don't call us once you've seen this advert.'
'It is cold but we're supposed to look like it's spring' added 61-year-old Skinner. 'So the secret is to look warm.'
The ads first appeared during Sky Arts' Portrait Artist of the Year, which is presented by 61-year-old Skinner.
The former flatmates, who still live on the same road in London, hosted Fantasy Football League on BBC Two and later ITV between 1998 and 2004, before presenting five series of the improvised Baddiel and Skinner Unplanned on ITV between 2000 and 2005.
Last year Baddiel, 53, suggested they might revive the chatshow online or on a cable channel, but later clarified his comments, saying that there hadn't been formal discussions about a revival.
Appearing on Desert Island Discs in 2010, Skinner revealed that he had lost a 'few million' of his life savings in the 2008 credit crunch through investments in the failing finance giant AIG, which was bailed out by the US government.
Catriona McGrath, head of marketing and communications at Pension Wise, said: 'We know that people don't want to think about their pensions, but with David and Frank's funny delivery, and the fact that they aren't getting any younger themselves, we hope to get people to do just that.'
- by Jay Richardson.
Published: 8 Apr 2018
What do you think?