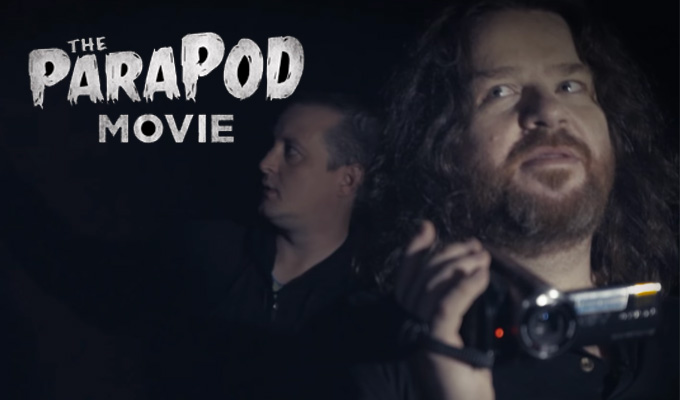 The podcast that became a film
Ian Boldsworth has released a trailer for a feature-length movie based on his ParaPod podcast.
Chortle understands that the film, which co-stars fellow comedian Barry Dodds, is set to be released in UK cinemas later this year.
If it does, it is believed it would become the first ever podcast to be made into a properly released movie, beating to the screen a project Robert Downey Jr is making based on an episode of the Reply All storytelling podcast.
The ParaPod, which has had two million downloads over its 30 episodes, featured sceptic Boldsworth challenging Dodds' belief in various paranormal stories and conspiracy theories.
The movie trailer shows them travelling the country in a customised hearse with Dodds trying to convince Boldsworth of the existence of ghosts. In one clip, Boldsworth mentions they are heading to Pluckley in Kent, reputedly the most haunted village in Britain, while other scenes are shot in the Edinburgh vaults and 30 East Drive, Pontefract, which is said to be home to a poltergeist.
Boldsworth – who makes his directorial debut with this feature – has remained tight-lipped about the details – but described it as a 'massively ambitious' project to convert cult podcast success into a properly filmed movie, featuring two relatively unknown comics as the leads.
He has been one of the pioneers of crowdfunding projects, and currently has more than 600 paying subscribers on Patreon, where he releases daily written posts and a weekly short stories podcast entitled 4,000 Words.
The ParaPod Movie has been made by Boldsworth's Infinite Hermit production company, with the help of Bil Bungay, an advertising executive who previously produced the Sam Rockwell film Moon and When The Lights Went Out, loosely based on the haunting of 30 East Drive.
Boldsworth – who used to perform stand-up as Ray Peacock – and Dodds previously filmed a self-financed, not-for-broadcast TV pilot based on the podcast too.
Published: 6 Apr 2018
Recent News
What do you think?