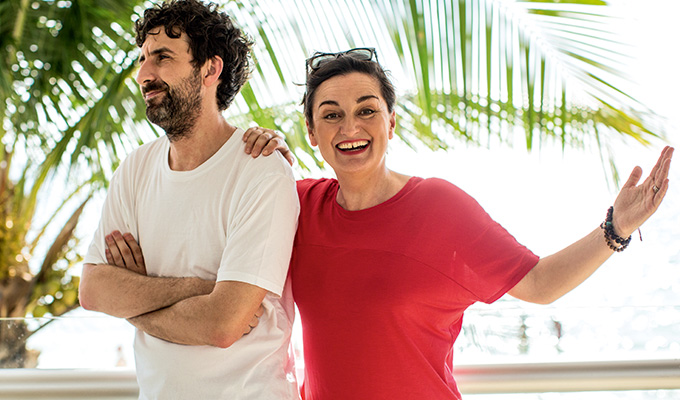 Trouble in paradise?
Zoe Lyons and Mark Watson have taken a holiday together, for a new short film sponsored by a travel company.
The two – friends in real life – were chosen as a 'chalk and cheese' duo, with tense and super-cautious Watson at odds with livewire, adventure-seeking Lyons.
They were sent away to a luxury resort in Jamaica, where they grappled with lilos, braved zip wires and practised yoga for a film funded by travel company TUI.
Watson said: 'Zoe thinks we should be doing lots of stuff. She wants to go in the sea, all this business. So it's quite full on. My idea of a holiday is not doing too much. That's caused a bit of friction. We've had to eat in separate restaurants.
And Lyons said of her travelling companion: 'His lack of preparation has charmed me. And shocked me. For a trip to the tropics, who turns up in a thick knit cardigan? That really took me by surprise.
'But, bless him, he's given things a go. He's not a lilo-master, I'll tell you that. I didn't realise how hard it was to get on a lilo until I saw him try and get on one…'
The pair will become the faces of TUI in a series of eight promotional 'idents' which will be broadcast across all Sky One programming.
The 20-minute short was directed by Gordon Anderson – whose credits include Fresh Meat, The Inbetweeners and Shameless – will be made available on Sky's online service, Sky Go, over Easter.
TUI also paired Dan Skinner – best known for his alter-ego Angelos Epithemiou – with former Balls Of Steel prankster Olivia Lee for another trip. In footage online, Lee is shown planning and researching every last detail, Skinner more laissez-faire.
Extra clips can be viewed at tui.co.uk/smile.
Published: 27 Mar 2018
What do you think?