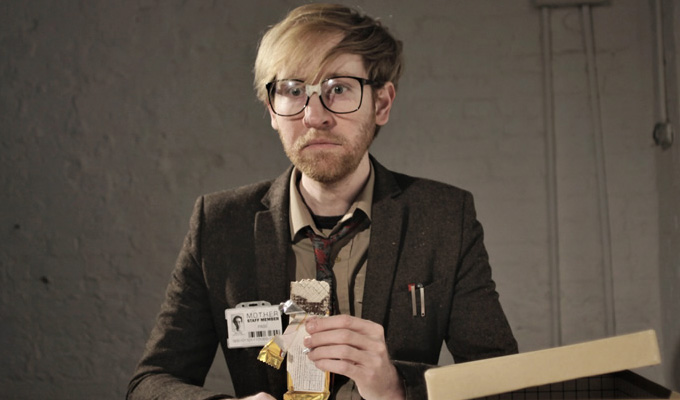 Watch with M.O.T.H.E.R
This week's comedy on demand.
The Standups
Netflix has released the second season of these half-hour specials/sets from established comedians. Brit Gina Yashere has one episode, alongside Joe List, Aparna Nancherla, Kyle Kinane, Brent Morin, and Rachel Feinstein. They were all shot in November at the Globe Theatre in Los Angeles, and dropped on the on-demand this week. Watch here
M.O.T.H.E.R Knows Best
This new dark comedy series with shades of The Prisoner comes from comic Chris Mayo and his co-writer Scott Kingsnorth. It's is set in a dystopian future where a harassed researcher (Mayo) conducts disturbing tests on his subjects at the command of the unseen, authoritarian M.O.T.H.E.R (The Mash Report's Rachel Parris). Amanda Reed and Aaron Phinehas Peters guest star in the first two episodes, with Norman Lovett, Thom Tuck and Hannah Warman among those lined up for the next eight in the series.
Here's episode one:
Why Is Your Bottom So Dirty?
Terrible title, but don't let the anti-marketing put you off. This is a new improvised podcast in which comedians Luke McQueen and Lou Sanders adopt the personas of Dr Benjamin Jones and Claire Cares interrogate their guests' emotional well-being - the smelly butts angle does not dominate. Phoebe Walsh, Brett Goldstein and Celeste Dring have played those guests in the three episodes so far. Listen here.
John Finnemore's Souvenir Programme
The best sketch show on radio started a repeat run on Radio 4 Extra last weekend… at 7.30am on Sunday mornings. That's hardly comedy primetime, but the good news is that the repeat means it's back on iPlayer.
This is the third series, which initially went out on Radio 4 in 2013. Finnemore stars with Margaret Cabourn-Smith, Simon Kane, Lawry Lewin and Carrie Quinlan.
Listen here.
Seems Like A Nice Boy: The Story Of Larry Grayson
Another iPlayer arrival thanks to an early-morning repeat, this 2005 profile of Larry Grayson is also timely because of the ITV2 tribute coming over Easter.
In this programme, Terry Wogan, Michael Grade and Isla St Clair recall the comic who gained fame relatively late in life and didn't let it go to his head: remaining in his hometown of Nuneaton in Warwickshire.
His early years were spent with a drag act before turning to stand-up when, in 1971, he was offered a six-minute slot at the London Palladium that made him a star.
Listen here.
Published: 24 Mar 2018
What do you think?