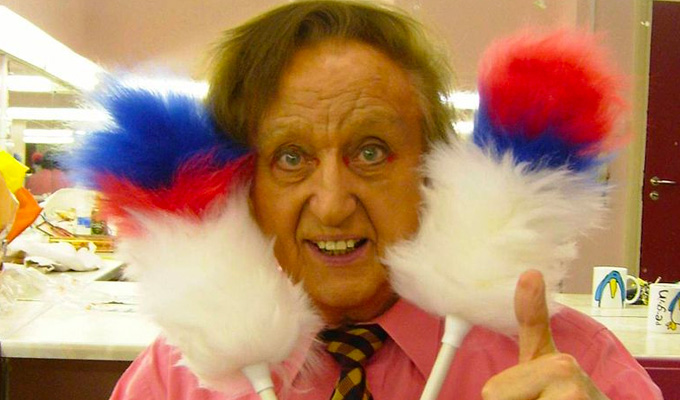 Tatty-bye, Ken Dodd
Tributes have been paid to Sir Ken Dodd, after the last link to the comedians of music hall era, died at the age of 90.
He died in the same home in the Knotty Ash area of Liverpool where he was born.
Sir Ken recently spent six weeks in hospital with a chest infection, and on Friday, he married Anne Jones, his partner of 40 years.
He was performing his legendarily long shows until late last year.
'To my mind, he was one of the last music hall greats,' his publicist, Robert Holmes, said.
Dodd started his career in 1954 as a ventriloquist under the name Professor Yaffle Chuckabutty, Operatic Tenor and Sausage Knotter.
Success came through his exaggerated on-stage persona - the manic hairstyle, protruding teeth and, of course, trademark tickling stick - combined with a relentless stream of one-liners, peppered with nonsense words like 'tattifilarious', that entertained audiences for hours.
In the 1960s he earned a place in the Guinness Book of Records for the world's longest ever joke-telling session, cracking 1,500 gags in three-and-a-half hours. He also holds the record for the longest comedy season at the London Palladium – with a mammoth 42-week residency in 1965.
Dodd famously logged audience reactions to jokes every night, building up a picture of what plays well where. But as well as his comedy career he found success as a singer. As well as his signature tune Happiness, he recorded several albums of love songs and notching up 19 top 40 hits, including the 1965 chart-topper Tears. It was the third biggest-selling British single of the entire 1960s
Dodd became embroiled in a tax-dodging case in the Eighties, and was eventually cleared, but the case revealed much about Dodd's eccentric private life, too.
And this morning, personal finance journalist Paul Lewis pointed out that Sir Ken 'stuck his tickling stick up the diddy taxman' by marrying his partner on his deathbed, as there is no inheritance tax on estates left to a spouse.
Last year, Dodd received a knighthood from Prince William recognising more than six decades of comedy and charity work.
Among those paying tribute overnight were Dara O Briain who tweeted: 'Ah, Ken Dodd has died. So happy I got to meet him once, and more importantly, saw him do one of his incredible 5 hour shows. He was an education to watch and, afterwards, at 1.30 am, he had beers with me in the dressing room and talked showbiz. A privilege, and a loss. RIP.'
David Walliams said: 'Comedy flowed through him like water.'
And many joked about his reluctance to ever leave the stage once he was on it.
Gary Delaney tweeted: 'RIP Sir Ken Dodd. One of the all time greats. The funeral will be held on Wednesday, Thursday, Friday and most of Saturday.'
Robin Ince said: 'With the death of Ken Dodd, many theatre staff will not merely be mourning the loss of a comedy Legend, but also the loss of all that overtime. He may have short changed the inland revenue, but never the audience.'
And Danny Wallace said: 'Godspeed Doddy. 90 years old. He was supposed to go when he was 80, but they couldn't get him off stage'
Published: 12 Mar 2018
What do you think?