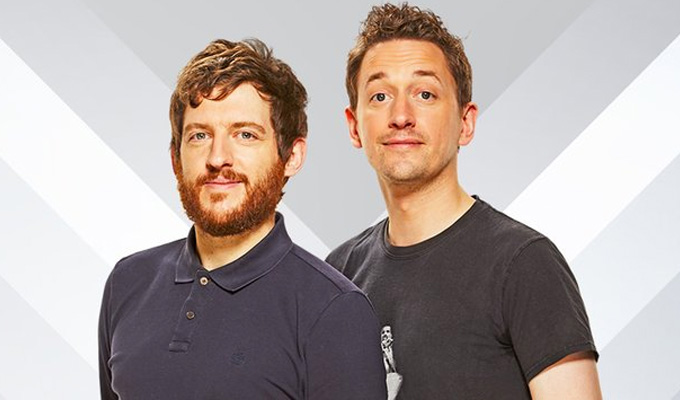 Book deal for Elis James and John Robins
Elis James and John Robins have signed a deal to write a book based on their cult radio show.
The Holy Vible will be a guide to the 'niche and obscure' world of their Radio X show and podcast, which is downloaded more than a million times a month, in over 100 countries.
It will be published on October 18 by Trapeze, whose publisher Anna Valentine said of the pair: 'Their passion for various subjects is utterly absorbing, whether it's for the unrivalled facilities of Gloucester service station, 19th Century Welsh communists or the current price of gold, and The Holy Vible is a celebration of that.
'Elis and John have built up an incredibly passionate and loyal audience, and listening to their self-deprecating humour, the journey they've shared together and their enduring friendship is the highlight of so many people's weeks. I'm so thrilled to have the opportunity to work with them on bringing this to life on the page.'
The pair met in 2005 performing stand-up in The Yellow Kangaroo pub in Cardiff and became friends after Robins 'offered the limpest handshake in the history of the world'. It was one of the weirdest things I'd ever experienced,' James said. But having known John now for over a decade, it was the tip of the iceberg. I can honestly say he's the oddest man I've ever met.'
They started hosted their Radio X show in 2014, when the broadcaster was known as XFM,and The Elis James and John Robins Show is the only non-BBC Radio 4 show to win a Chortle Award for radio.
Robins says: 'Having known Elis for over a decade there are two things I can say for certain. Firstly, he is the funniest, kindest, most giving, tolerant person you could ever hope to meet. Secondly, there is no way in hell he will hit the deadline.'I may be hard work, but I will be finished with a week to spare.
'I often wonder how we created this small universe of niche interests, running jokes, catchphrases and UK-wide shame monetisation. But we didn't, our listeners did, and I'm so excited that come October 18 they will have something they can hold and say "I made this". That said, all copyright, advance and future royalties will remain sole custody of Elis James and John Robins. (50/50 if he gets his arse in gear).'
The blurb for the books hints at some of the in-jokes covered, reading: 'Have you ever failed to Keep It Sessionô? Is your new flatmate a complete coin? Have you ever eaten Space Raiders on the toilet and written 'Grief Is Living' in your journal? Then this book is for you. If not, don't worry, it won't be long before you're making up games, looking at Freddie, or facing your own personal farthing-gate.'
Trapeze previously published books from Sarah Millican, Alan Partridge and the world's most-watched YouTuber, Dan The Diamond Minecart.
Click here to preorder the book for £18.99.
Published: 10 Mar 2018
What do you think?