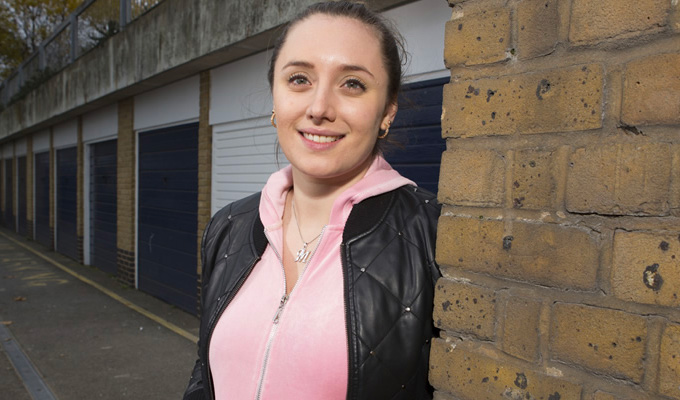 What People Just Do Nothing's Miche did next...
People Just Do Nothing star Lily Brazier has begun filming a new BBC Three comedy.
In Wannabe she plays failed former girl band member, Maxine, who now manages a teenage pop group Sweet Gyal.
However, the youngsters tire of her trying to live vicariously through them and of her embarrassing attempts to get them a record deal, and threaten to drop her. So Maxine comes up with the idea of a new genre she can take part in: Mum Pop.
The show was originally commissioned as a one-off pilot as part of BBC Three's Comedy Slices alongside Chines Burn, Hailmakers and Kayvan Novak's Celebrity Voicemail. However, it has now been upgraded to a four-part series which will drop on iPlayer next month.
Brazier, who plays DJ Grindah's fiancée Miche in People Just Do Nothing, also co-wrote the show with its director Ben Murray.
She said: 'Ben and I have had so much fun writing Wannabe. Thanks to Maxine I'm getting to live out my childhood dream of being a pop star – albeit a failed one – and I'm really looking forward to working with the talented cast to bring the world of Wannabe to life.'
That cast also includes Nathan Barley and Uncle star Nicholas Burns, Wonderland's Jim Howick, Amy Booth-Steel, who played Nicola Sturgeon in The Windsors, and character comedian Alexis Strum. Savannah Steyn, Karla Simone Spence and Imogen Gurney make their TV debuts as Sweet Gyal.
Shane Allen, the BBC's controller of comedy commissioning said: 'This is a very different character for Lily to take on after her deserved success with People Just Do Nothing.
'In Maxine, Lily and Ben have created a self-obsessed comedy monster who lurches from one car crash to the next The pilot was terrific and we await the series excitedly like expectant parents.'
Published: 9 Feb 2018
Recent News
What do you think?