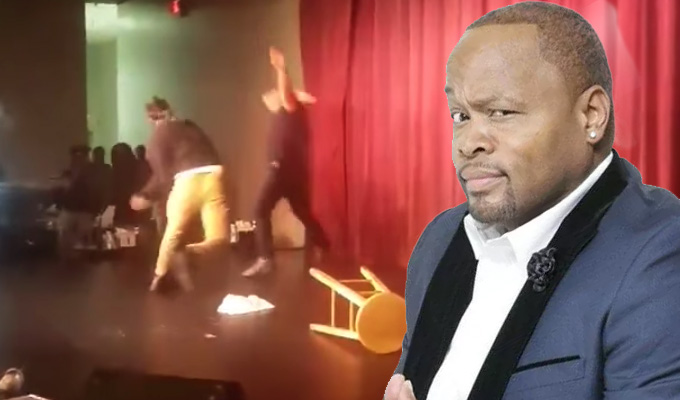 Man charged over comedy club attack
Police have arrested the man they think launched a savage attack on comedian Steve Brown at a US comedy club this weekend.
Marvin Toatley, 28, now faces three charges of assault and battery 'of a high and aggravated' nature for the attack at the Comedy House in South Carolina.
Sheriff Leon Lott said Toatley turned violent after Brown picked on him, and added: 'Why would anybody lose control over having a comedian make fun of them?
Toatley, who was arrested at an apartment building, was bailed on a $65,000 bond, local media reports.
Footage of the furious punter lashing out with a microphone and throwing a stool went viral over the weekend – a video which Sheriff Lott said made his investigation easy.
The officer said there was no blame on the venue, adding: 'That's part of the show. I've been there and I've been picked on.'
However the general manager of the Comedy House, Peter Hamlett, put some blame on Brown, saying he inflamed the situation. 'I think he's not thinking of the customers that were here – the other 136 people that were in the room – that he had the responsibility of keeping safe,' Hamlett told WIS TV.
Brown said the man who attacked him was having 'the time of his life' before suddenly turning aggressive, slapping the woman he was with.
'He looked dazed and like he was becoming someone else,' Brown said in an interview with gossip website TMZ. 'Then I asked him what was going on and him and this girl started getting into something and he slapped her.
'Then his mum or somebody tried to hold him and he slammed her.'
He received a laceration to the arm after being hit by a glancing blow from the mic stand but was not seriously hurt.
Brown has called for tighter security at the Comedy House, but the sheriff said the staff did all they should have done.
When asked if he would press charges, Brown was hesitant until TMZ pointed out that the punter smacked his girlfriend, then the comic said: 'Hell yeah, he gotta go.'
Published: 25 Jan 2018
Recent News
What do you think?