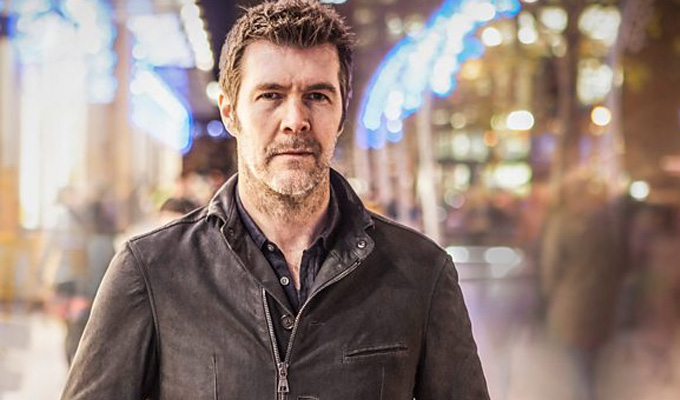 Rhod Gilbert: My battle with crippling shyness
Rhod Gilbert has made a BBC documentary about his 'crippling' shyness.
Greg Davies also talks about his social anxiety in the hour-long film, Rhod Gilbert: Stand Up To Shyness.
It airs on BBC One Wales and iPlayer on Wednesday and will broadcast on network TV across the UK later this year.
Despite the disclosures about his social discomfort, Gilbert has performed stand-up to thousands on his nationwide tours and fronted high-profile TV shows, such as The Apprentice: You're Fired, Never Mind The Buzzcocks and his Work Experience show, in which he meets all sorts of people while trying out various professions.
But he reveals that in the real world he struggles to even go into a cafe to buy coffee; that, as a child, he spent almost an entire Cub camp locked in a Portaloo; and that he has never asked a woman out on a date (although he is now married to comedy writer Sian Harries, who appears in the film). And as a student on a trip to Salamanca in Spain, he slept rough rather than share accommodation with people he didn't know, washing from the tap of a bin lorry.
For the documentary, Gilbert also revisits his childhood home of Carmarthen, attends a shyness support group and speaks to a clinical psychologist, as well as meeting three people whose shyness has left them virtually housebound. He attempts to persuade them to try stand-up as a way to overcome their debilitating condition.
Gilbert has admitted that 'when I was asked to do this documentary I was really uncertain … do I want the world out there to know this shy side that I've struggled with all my life? It doesn't really fit with what you see on TV or the stand-up.'
On how he started performing comedy despite his fears, he said: 'I guess we're all a weird bag of contradictions and the real answer is that I was pushed and persuaded and cajoled into it by the people around me and it took me eight years to go "alright, alright, I'll give it a go".
'Quite how on stage I overcome those things is partly what the documentary is about and I actually learn in this documentary that stand-up has really helped me, so I go out into the "shy world" and say "does anybody fancy coming on a bit of journey?", and these three shy people come forward. The rest will be in the documentary.'
The comic has also revealed how his university lecturers were so worried about his sporadic attendance that they assigned another Welsh student to be his friend and 'drag me out of my shell' he told the Western Mail. 'The powers that be even moved me from where I was staying into his halls of residence'.
He told the paper that he would routinely bunk off the 2002 comedy course he took, run by Logan Murray at the Amused Moose in London and recalled being 'elated' when he found out that early gigs he'd booked had been cancelled, even if driving there had taken him hours.
Gilbert is about to return to live comedy after a six-year absence, performing three 'work-in-very-early-progress' material nights at the Machynlleth Comedy Festival in May.
Rhod Gilbert: Stand Up To Shyness is on BBC One Wales on Wednesday at 9pm. Here's a clip:
- by Jay Richardson
Published: 22 Jan 2018
Recent News
What do you think?