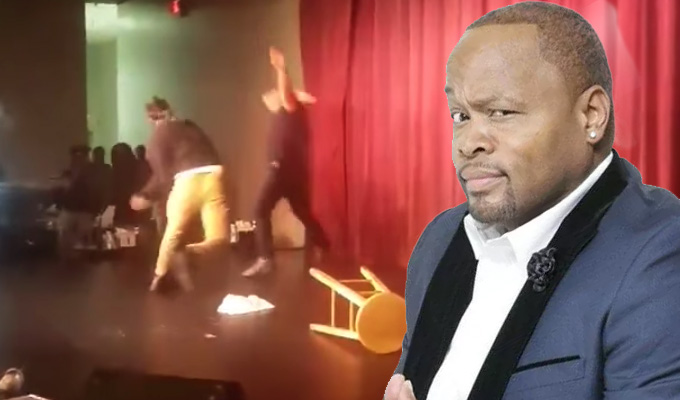 Comedian viciously attacked on stage
The furious man threw a stools and the microphone stand, using part of it as a weapon to lash out at comedian Steve Brown.
The comic later posted an image of a wound to his arm, saying on Instagram: 'Them mic stands are a bitch. In the future I'm gonna start pulling mic stands on these niccas... '
After being led away by other audience members, the attacker returned bare-chested, keen to resume the fight, as the Comedy House in South Caroline erupted into chaos. But he was again held back.
After the attack, Brown posted a video online reassuring friends and fans that he was 'great' after the incident – but called on clubs to beef up their security.
He added: 'This unprovoked attacked that happened to me tonight is a reminder of why these comedy clubs should have well equipped PROFESSIONAL security to protect us entertainers who bring their club so much money.
'I thank God for looking out for me and giving my old ass the ability to bob and weave because this could have ended in horrible way.'
It's unclear what prompted the assault, with Brown saying: 'Nobody was messing with him.
'We were doing a great show. All of a sudden the dude got up and lost his mind. I asked him if he was OK, and it went from there . I had to give him the comedian disclaimer - if you come on stage your ass is open game.
'You saw what happened: he was doing all the swinging. I was doing the ducking. I you look at the video I was talking to him like, "Dude you're going to get tired and I'm gonna knock your ass out, I swear to God".
'He got no licks in, that's when the started picking up stools and all that bullshit.'
But Brown was philosophical about the attack, saying:'It is what it is, so on to the next club.'
Published: 22 Jan 2018
A punter launched a vicious attack on a stand-up on stage at an American comedy club last night.
Recent News
What do you think?