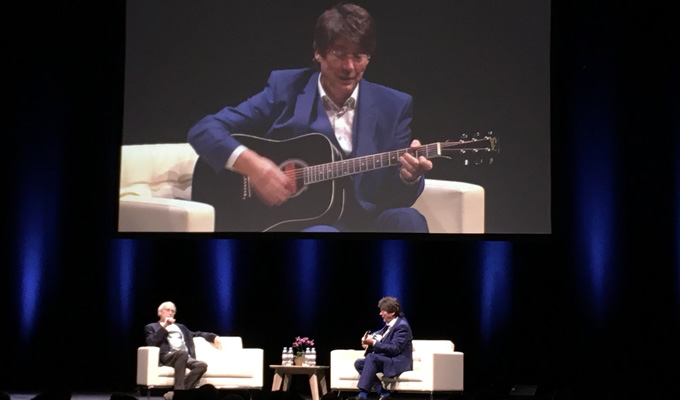 Car crash as Mike Read interviews Chevy Chase
Furious fans are demanding refunds after an Audience With Chevy Chase show turned into a car crash last night – thanks to interviewer Mike Read going full-on Alan Partridge.
The 1980s DJ was heckled with 'Mike Read you're a twat' during the event at the Hammersmith Apollo – a comment which drew the biggest laugh of the night. He reportedly stormed off soon afterwards, bringing the show to an end after just an hour
At one point Read even got his guitar out, inviting comparisons with David Brent's cringeworthy behaviour.
Oh dear ! 😲 pic.twitter.com/X81QMlotIR

— Shane (@shane87654) January 14, 2018
The DJ apparently asked the Hollywood legend such searching questions as 'how are your haemorrhoids?', what was his favourite soccer team and if he had a message to youngsters about drugs.
To add to the chaos, the gig that was beset by sound problems too, with many in the audience complaining they couldn't hear the interview in the 3,500-capacity venue.
Audience member Mark Billington tweeted about Read: 'He went FULL Partridge. Got his guitar out, referred to himself as a legend, started talking about the Mayflower. Just the oddest thing I've ever witnessed.'
Caz Pease, who said she was 'so excited' ahead of the gig, said afterwards: 'I want my money back! No fault of Chevy Chase but Mike Read was dreadful, we heard barely half an hour of questions because of sound issues and when someone shouted out that he was a twat, Mike Read ended the interview and stomped off.'
A Twitter user by the name of Fi McNaught said: 'What the actual fuck happened tonight? I have never seen a car crash like that before! Disappointed! It was awful, car crash… Read picking up guitar and Chevy mumbling along to a song he cannot remember the words to. Qs like So Chevy do you enjoy tennis?'
Keith R Robinson said: 'Big let-down. Chevy was funny and tried to salvage things but Mike Read was awful awkward asking useless questions. Was like a septic tank explosion. Must be seen to be believed.'
Marc Hockley tweeted directly to Read: 'You were dry, unengaged, awkward and arrogant. The sound problems at the beginning didn't help but you all but ruined a wonderful night for thousands.'
Allison Allen added: 'I've never left felt the need to walk out of a show early before. Tonight, we couldn't stay for even a full hour. Shockingly bad. #refundpleaseeventimapollo
Stuart Brown said: 'I'm torn - I should really demand money back for the most embarrassing, underprepared show I've ever witnessed riddled with tech issues. However, it's also probably worth every penny to see @MikeReadUK completely firebomb his own career with such Partidgian flair…'
Fans paid up to £100 for tickets to the show – with another £140 if they wanted a meet-and-greet with 74-year-old Chase, who in the last week has been defending Al Franken and Dustin Hoffman over harassment allegations.
Read once wrote a musical about Oscar Wilde that was so savaged by critics it closed after one performance and wrote a calypso in support of Ukip that was deemed racist when he adopted a faux-Jamaican accent.
Here's the moment Read was heckled:
And here is is asking something about Paris, for some reason:
Totally bonkers. Mike Reed is asking crazy shit questions and Chevy Chase has no idea what's going on. I don't think anyone does. pic.twitter.com/J61omRPezT

— Sunglasses Kid 🕶 (@SunglassesKid) January 13, 2018
Finally, here is Chase dropping the mic at the end of the show, after being left alone onstage by Read:
#Chevychase walks off stage dropping the Mic after Mike (Read) dropped the show and walked off - Chevy was amazing but it was an uphill struggle he had no choice but to give up - @FrazerBrown we'll #jointhechevoloution if you bring him back to UK pic.twitter.com/v02Z7eWnnt

— Promotopia Pictures (@PromotopiaFilms) January 13, 2018
Chortle has approached promoted Rocco Buonvino and the Eventim Apollo for comment
Published: 14 Jan 2018
What do you think?