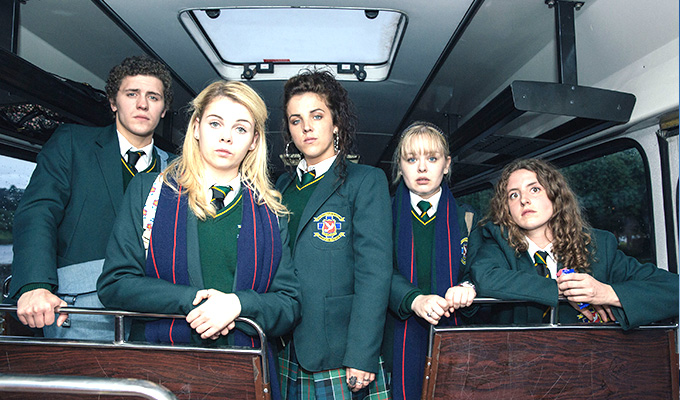 Derry Girls gets a second series
Channel 4 has commissioned a second series of Derry Girls – after just one episode has aired.
Last week's opener has so far attracted 2.5million viewers, including catch-up, making it the biggest new comedy for the broadcaster in five years.
Now, ahead of tonight's second episode, another six part series has been ordered.
Derry Girls is the creation of Lisa McGee who has mined her own experiences of being a teenager during The Troubles.
The show stars Saoirse Monica Jackson as Erin, Louisa Harland as her cousin Orla and Nicola Coughlan and Jamie-Lee O'Donnell as her cousins. It also features a Tommy Tiernan as Erin's long-suffering father..
Ian Katz, director of programmes at Channel 4, says: 'Derry Girls is a blast of fresh air. It's everything we want from Channel 4 comedy: young, warm, brimming with new talent and rooted in an underrepresented part of the country. And a hit to boot. I'm delighted that we've commissioned a second series and can't wait to see what Lisa does next.'
He commissioned the new series with head of comedy Fiona McDermott, who said: 'It's a real thrill, and a testament to all involved, when a new comedy lands so well with such a broad audience. At the heart of Derry Girls are brilliant comedy characters that feel universal, mischievous and funny so it's wonderful to be able to back it with a second outing so quickly and confidently.'
The show has also been praised by critics. The Observer called it 'one of the funniest things on television this week'; The Sunday Times called it 'An Inbetweeners for clever girls… it is very funny, the cast are lively and the script is whip smart' and the Belfast Telegraph said: 'Derry Girls is warm and honest, laugh out loud funny and as a vibrant as the Derry girls it represents'.
A total of 1.5 million watched the show on its first airing and it attracted more than double the slot average among 16-34 year old viewers.
Here's a preview of tonight's episode, which airs on Channel 4 at 10pm"
Published: 11 Jan 2018
What do you think?