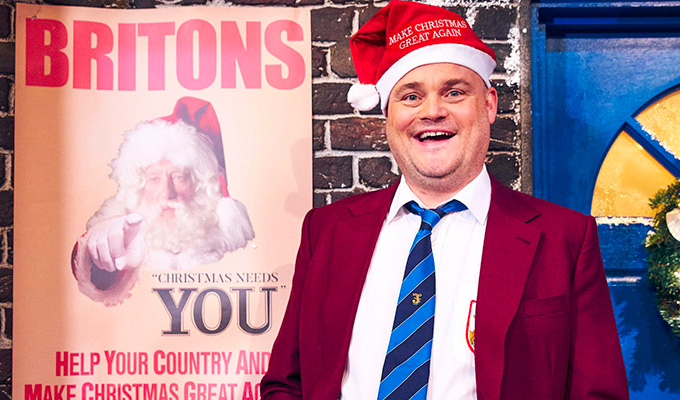 MXGA: Make Xmas Great Again!
Monday December 18
LEAGUE OF GENTLEMEN: We probably need say no more… A VERY welcome comeback for Reece Shearsmith, Steve Pemberton and Mark Gatiss to revive the bizarre and darkly comic denizens of Royston Vasey, where, the BBC say, there is 'more bad blood than an abattoir with septicaemia'. Co-written with Jeremy Dyson, there are three episodes stripped over the next three nights. BBC Two, 10pm
BIRDS OF A FEATHER: It's Christmas in Chigwell and the Birds are back with an hour-long special. ITV, 9pm.
SAY WHAAAT? The pilot of a new improvised show, created James 'Murr' Murray from the Impractical Jokers team in which comedians dub over footage of people's conversation, with help from the studio audience's suggestions. It's hosted by Jayde Adams and features guest appearances from Russell Kane and the Impractical Jokers team. Comedy Central, 10.30pm.
Tuesday December 19
WHERE'S THE F IN NEWS: The pilot of Radio 4's new female-led topical panel show, using what the team think should really be top of the news agenda in a series of fresh and funny challenges. The host is Jo Bunting, producer of Have I Got News For You. 11pm.
Wednesday December 20
ALAN PARKER'S CHRISTMAS SPECIAL: For the first time since its original broadcast on Radio 1 in 1994, a festive special from urban warrior Alan Parker (Simon Munnery), who is joined by Peter Serafinowicz, Mandy Knight, Paul Tonkinson and Peter Baynham. Radio 4 Extra, 10:30pm
Thursday December 21
THE Russell Howard HOUR: The first series bows out with a special guest – John Oliver making his first appearance on a British TV show in almost 12 years. The last time was in 2006, when he was a panellist on Mock The Week. It's the last in the current series of Howard's show, but a second run has been commissioned for next year. Sky One, 10pm.
Friday December 22
AL MURRAY'S MAKE CHRISTMAS GREAT AGAIN: Well, Donald Trump promised we could say Christmas again… so in that same vein The Pub Landlords returns to ITV after a long absence with games, guests, banter and good old common sense to celebrate that great British invention: Christmas.Missing from the line-up will be Aled Jones, whose contribution has been axed after he was accused of sending inappropriate messages to a female colleague a decade ago. ITV, 9pm
DEAD RINGERS: The impressions show returns for a Christmas special. Radio 4, 6.30pm
Saturday December 23
LENNY HENRY ON Richard Pryor - THE MAKING OF A SATIRIST: This documentary includes little-heard footage of the stand-up legend from the time he was transitioning from a good-natured Bill Cosby clone to a sharp social satirist. The reinvention came when Pryor threw away a lucrative job in Las Vegas and moved to the countercultural hub of Berkley California, in 1971 where revoultion - especially when it came to black politics - was in the air. And he immersed himself in it. Read more here. Radio 4, 8pm.
Published: 17 Dec 2017
What do you think?