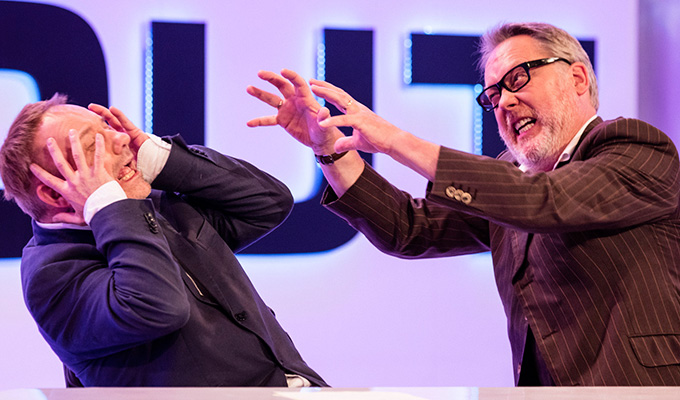 Vic and Bob are having more Big Nights Out
Vic & Bob's Big Night Out is to return for four new episodes.
BBC Four has commissioned the new shows off the back of a BBC Two comeback special that wil be aired over Christmas.
Although the series originally aired on Channel 4 – when it was called Vic Reeves' Big Night Out – the series will mark the double act's 25th anniversary at the BBC, which began with the Smell of Reeves and Mortimer
Bob Mortimer said: 'We are so chuffed and exited to be given the chance to re-invent the Big Night Out so long after it all began. We shall make it as joyous and surprising as it was all those years ago.'
And Reeves added: 'It's playtime again. All these years on and we can still both do the splits. We can not be stopped.'
Big Night Out first aired in 1990, based on the stage shows the pair used to perform at Goldsmiths Tavern in South London. It ran for just two series, but was hugely influential and paved the way for the duo's other shows, including Shooting Stars, Bang Bang, Catterick and House of Fools.
The pair revived many of their Big Night Out creations, including The Man With The Stick, Judge Nutmeg, and The Stotts for their 2015-2016 live tour Poignant Moments, their first in more than 20 years.
Shane Allen, the BBC's controller of comedy commissioning, said: 'Vic & Bob have created so many terrific characters and inspired ideas over the years. The Christmas special sees them at the top of their game and this following series promises more daft, infectious and unique comedy madness from the daddies of the absurdly brilliant.'
The new shows are being made by BBC Studios production, with their long-time collaborator Lisa Clark producing. No broadcast dates have yet been confirmed.
Here is a gallery from the first show, airing on BBC Two on December 29.
Published: 15 Dec 2017
Recent News
What do you think?