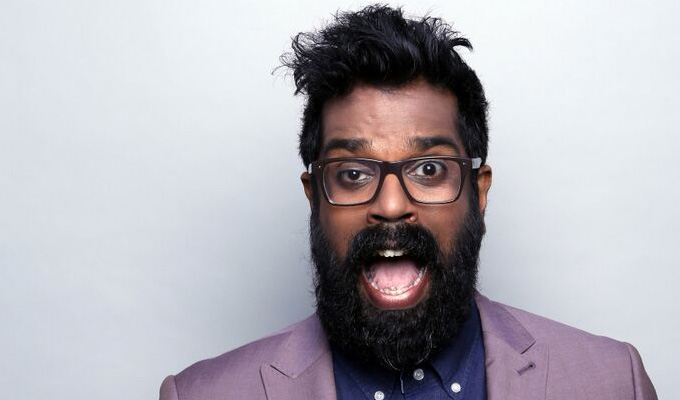 'This has been a huge error!'
Romesh Ranganathan's attempts to crack America are struggling – with the comic having sold barely 200 tickets for his gig at the legendary Greek Theatre in Los Angeles.
With just nine days to go, that represents less than 4 per cent of the 5,900 tickets available at the outdoor arena.
But he insists that the show, which is being filmed for a reality series about his bid to make it big in the US, is going ahead regardless.
Meanwhile, despite his travails on the other side of the Atlantic, Chortle can reveal that Ranganathan is working on a new show for the UK, which has required him to undergo hostile environment training.
Romesh said that he set himself the goal of filling the arena as he needed 'something to aim for because I'm an inherently lazy person, so I wanted to put, not a deadline as such, but a stopwatch on it, to really make me go all out'.
'The stopwatch involved me booking the Greek Theatre for December 21,' he told comedian Jimmy Pardo on his podcast. 'Then I thought I'm going to go all out to try to sell the tickets for that'.
'That has proved to be … a huge error. One of the biggest mistakes I've ever made.'
Here's a plan of the theatre showing the scale of the task facing him. Each blue dot is a seat still for sale:
Ranganathan added that he had rejected the option of playing a smaller venue or sharing the bill with a more established American act, explaining that the 'field of dreams' idea was part of his attempts to persuade his family to move to America. 'Because if they are not on board, then I'm not staying, that's the long and short of it' he said.
The comic is currently living in Los Angeles with his wife, three children, uncle and mother Shanthi, who co-starred on his BBC Three travel series Asian Provocateur.
Ranganathan said he 'has been trying to balance professional things with getting my wife and kids settled and comfortable here, enjoying life here. But I would say if you are going to book the Greek with zero [American] profile, clear your other tasks.'
As Chortle reported in October, the gig is being recorded as part of a reality series, Breaking Romesh, for the Showtime premium cable channel.
To help publicise the show, Ranganathan performed stand-up on James Corden's Late Late Show last week:
He has also appeared on several podcasts, including Kevin Smith's, where he suggested to the Clerks director that one reason why an unknown was able to book the Greek Theatre is that there's no competition for an outdoor venue in the depths of winter – and lamented the fact that many Brits living in Los Angeles will have flown home for Christmas.
Ranganathan is committed to settling in the States but will be returning to the UK 'to tend to affairs'. His semi-autobiographical sitcom, The Reluctant Landlord, is due to air on Sky One next year. And he told Pardo that he'd been undergoing hostile environment training for another, as-yet-unnamed show for British television.
'I've spent the morning finding out different ways that you can die. Some of it's sit down and some of it's practical. I haven't done the practical yet, so I don't know what's involved.
'For example, they might simulate a situation where you're approached by a local with a machine gun and they give you tactics or techniques to deal with that situation. That's the kind of thing I have to look forward to.
'You don't know how much of a prick you are until you're actually in that situation and you're throwing your wife into the line of fire. It would be horrible to discover that that's in your character. I think it would be in mine'
Here is Ranganathan's trailer for the Greek Theatre show:
- by Jay Richardson
Published: 12 Dec 2017
What do you think?