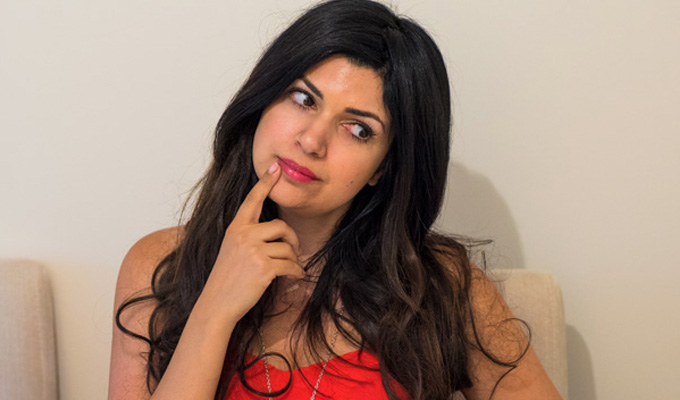 Craig Ferguson ripped off my pubes joke
Comedian Ariane Sherine reckons Craig Fergusson ripped off her idea in his new Netflix special.
Sherine said she was 'absolutely fuming' that the Scottish comic has a gag in his stand-up show Tickle Fight about growing his pubic hair into the shape of Hitler moustache – because she released a comic song about the same subject in 2014.
The track, which has had 10,000 views on YouTube, describes her going into a beauty salon and being angry about the style she came out with. 'You won't believe what she did to my gash,' the lyrics go. 'She waxed my pubes into a Hitler moustache.'
Over several verses the idea is repeated, with variously offensive euphemisms for her vagina.
Towards the start of his special, former US chat show host Ferguson – who once performed under the stage name Bing Hitler – speaks of his new facial hair, saying: 'I'm covered in moustaches all over my body... I've got a little Hitler moustache above my junk – which is great because when I get excited it looks like I'm giving a Nazi salute: 'Heil baby, I'll have sex with you now."'
Sherine raged: 'I don't get fucked off often, because life is too short, but it seems that Craig Ferguson has ripped off Hitler Moustache.
'I've never met the guy and have zero beef with him, but his latest Netflix special features "pubic hair groomed to resemble Hitler's moustache".
'I can just picture some writer going "Sherine's virtually unknown, so it's easy to steal an idea from her." At least I can prove I came up with it back in 2014.'
She called Ferguson out on Twitter saying: 'Um, not sure what's going on, but Hitler Moustache pubes were my idea, way back in 2014. I can't believe that synchronicity would have led to two comics having exactly the same idea.'
But Sherine – who created the atheist bus advertising campaign of 2008 – was not the first to consider pubic hair could be sculpted in that way.
In Richard Herring's blurb for his 2010 stand-up show Hitler Moustache about reclaiming the pencil moustache as face furniture, he said: 'The only time you'll see it these days is carved into the pubic hair of a naughty lady.'
And there is even a term for female pubic hair shaved into that shape – the Clitler – which was defined on Urban Dictionary as long ago as 2003.
After initially claiming joke theft, Sherine later rowed back a little, and tweeted to Ferguson late last night: 'Probably just coincidence and my own paranoia. We should bond over our unfortunate Nazi pubic hair instead of fighting over it.'
Here's Sherine's video, which features Charlie Brooker in a cameo.
Published: 10 Dec 2017
What do you think?