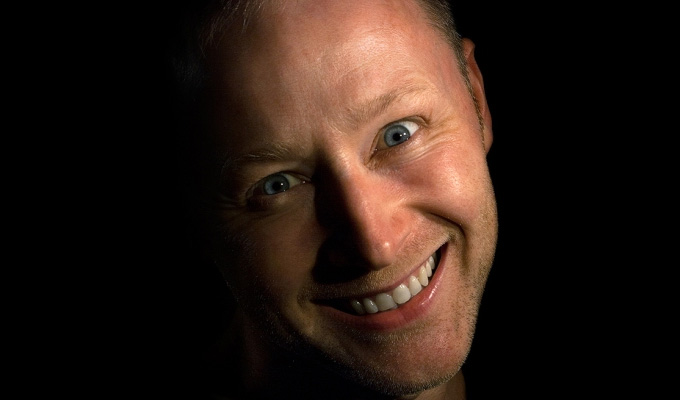 Limmy returns to the BBC
Limmy is making a surprise return to the BBC with his new sketch show – and he's writing an autobiography, Chortle can reveal.
The Glaswegian comic raised money through crowdfunding to make half-hour episodes of Limmy's Homemade Show that he would release online each month.
It would have been a return to his roots as a DIY web comic, shooting everything himself with a camcorder. But after the TV executives saw the footage, they commissioned a show for broadcast on BBC Two Scotland.
A total of 1,441 fans had pledged cash via the website Patreon to help him make the show – totalling about £5,300 per episode.
But now Limmy says the show will not be crowdfunded. 'It's not the Patreon money, I'm no using people's money then going and sticking it on the BBC, it's a BBC thing. Made by me though.'
A BBC spokesperson confirmed to Chortle that it had commissioned a 30-minute programme, although it was too early to say when it would be broadcast.
Limmy, whose real name is Brian Limond, added that he shot sketches himself while waiting for the BBC to make a decision.
'I filmed pretty much the lot of it. Because it was taking so long, I just went ahead and filmed it,' he told viewers of his YouTube channel, chatting while live-streaming himself playing the computer game Overwatch.
The BBC had had concerns about the quality of the footage. But Limmy learned this week that 'it's fine', with producers telling him: 'We'll be able to use what you've got on this occasion'
He added: 'Any future episodes that might get made, I'm going to have to have a broadcast quality camera.'
It is currently unclear what's happening to the Patreon pledges – which are often not taken until episodes are made – but one backer said: 'If this isn't going to happen, I feel like most/everyone could get behind you making this into a crowdfunded for a Falcolnhoof web series. That'd be awesome.'
The comic's previous television series, Limmy's Show, which featured the Falconhoof character, began on BBC Scotland before airing on Netflix and Gold, scooping two Scottish Baftas.
Limmy also disclosed that he was worried about potentially having to shoot the series a second time as he's about to begin writing his third book, a memoir, which follows the short story anthologies Daft Wee Stories and That's Your Lot.
'I'm no sure how I'm going to write it because it's kind of like an autobiography' he said, adding that he was concerned any refilming would also clash with the live tour he would do to promote the book.
Here he is launching the Patreon crowdfunding appeal:
- by Jay Richardson
Published: 1 Dec 2017
What do you think?