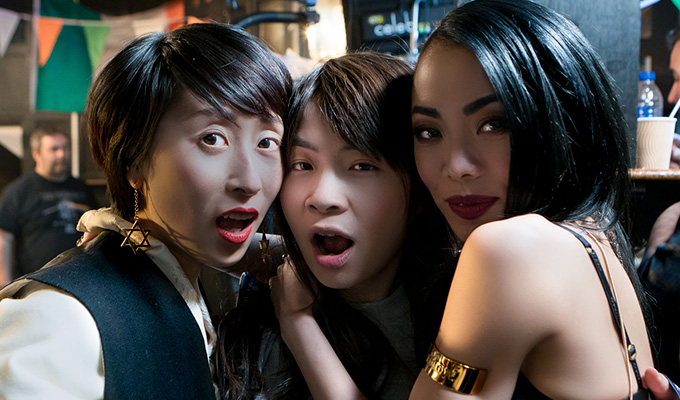 'I was Chinese Burned'
The co-star of Jack Dee sitcom Lead Balloon has launched a legal fight to be credited as co-creator of the new BBC comedy pilot Chinese Burn.
Sean Power previously worked with stars Yennis Cheung and Shin-Fei Ching developing a similar web series called Chinese Girls In London.
He says the pair squeezed him out of the show once it was picked up by production company Roughcut, which made the pilot, and now wants redress.
But Roughcut say there is no merit to his claims, with head of production Tim Sealey telling Chortle: 'Sean was merely the director of the web series Chinese Girls In London, he did not create that series and he certainly played no part in the creation of Chinese Burn. There is no legal basis to his claims.'
Power, who played writer Marty in Dee's sitcom, has been pursuing the 'financially draining' legal tussle for 18 months, but insisted: 'This is not sour grapes… I've no real axe to grind.'
Powers says he worked with Cheung and Ching devising the format and characters of the programme over a series of meetings in cafes and at his home in 2014 and 2015. Cheung was living at the same East London address on a part-time basis at the time.
The three also set up a company called Surreality Productions to oversee the project and hold the rights. Yuyu Rau, the third star of the pilot that was released on BBC Three's iPlayer channel this week, also joined the project as was appointed company secretary.
They made ten episodes of the online series as a 'calling card' for a TV series, and put together a pitch document that Powers says is an 'almost verbatim' description of Chinese Burn.
He says he has records of the pair mentioning him as a co-creator and that he feels 'antagonised' by the way he was ousted.
He said: 'Even though I didn't credit myself as a writer on Chinese Girls In London – on their suggestion – I was giving notes throughout the entire process, and all final drafts and amendments to the shooting scripts would be rewritten by me and Ching.'
Power said his contributions included making it a narrative comedy as opposed to sketches and setting out the key defining traits of the characters.
He points out that himself and the web series producer William Morgan had a track record of writing and pitching shows that Chen and Cheung lacked, and added that he called in favours to get it shot that could not now be repaid. 'All of my cast and crew gave their time and energy for free with my personal assurance they would benefit if the series was commissioned,' he said.
But Power says he was disappointed with how the pilot panned out, saying it was 'more wacky and one-dimensional' than the show he envisaged.
Despite its good intentions, Chinese Burn has faced criticism for being racist and sexist. But Chen told Radio 4's Front Row: 'In order to smash stereotypes – you have to offer [them] up first.'
However, Power said he didn't think the backlash would be a bar to the show being picked up for a series to help the BBC's quest for diversity.
'It wouldn't surprise me,' he said. 'They can be bureaucratic and might want to tick that box.'
As well as his work on Lead Balloon, Power's acting credits include appearing in the West End show The Night of the Iguana alongside Woody Harrelson, Brad Pitt's new Netflix film War Machine and E4's reality hidden camera show The Work Experience.
Roughcut was set up by Sealey and The Office and IT Crowd producer Ash Atalla in 2007. Their other credits include People Just Do Nothing and Cuckoo
Published: 30 Nov 2017
Recent News
What do you think?