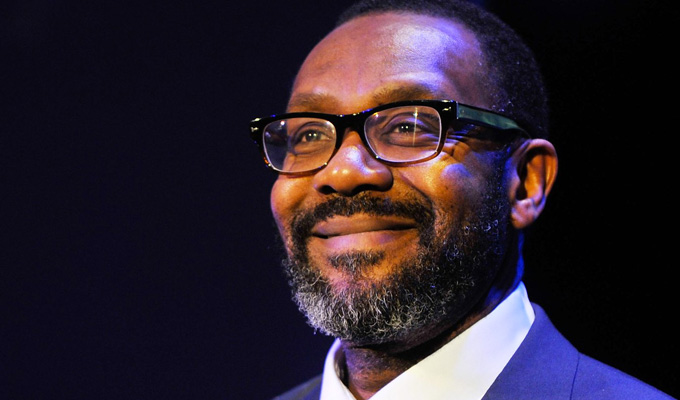 Lenny Henry to star in Neil Gaiman adaptation
Lenny Henry is to star in a BBC adaptation of Neil Gaiman's fantasy story Anansi Boys.
He will appear alongside Jacob Anderson - best known as Grey Worm in Game of Thrones – Misfits star Nathan Stewart-Jarrett and Green Wing's Julian Rhind-Tutt.
The story revolves around Mr Nancy, an incarnation of the West African trickster spider god Anansi who dies, leaving two sons, previously unknown each other.
Gaiman said the original 2005 novel was inspired by Henry, who worked together creating the 1996 BBC Two series Neverwhere.
He will play Mr Nancy in this new Radio 4 version, with Anderson and Stewart-Jarrett as his two sons.
The author said: 'I'm delighted to have this amazing cast of actors bring Anansi Boys to life for Radio 4. Anansi Boys started for me over 20 years ago when Lenny Henry and I were working on Neverwhere together.
'He told me that it was wrong that back then there really weren't any horror films with black leads, and I said, "Well I'll write you onee. And then it wasn't a film, but a novel, and it wasn't horror but a strange mixture of mythic family comedy, romance and crime drama (with some scary bits).
'When I was writing the novel I had Lenny's voice in my head and I'm delighted that in this dramatisation Lenny is Mr Nancy and Anansi the Spider – to me he is inseparable from this project.
'But the talent behind the microphone is astonishing. We even got Earl Cameron, a month after he turned 100, to come in and play Dragon. '
This is the second BBC radio adaptation of the story.
In 2007, it was adapted into a radio play for the BBC World Service, that time with Henry playing the sons and Rudolph Walker as Anansi, and featuring Matt Lucas as Grahame Coats and Jocelyn Jee Esien as Daisy.
However, was dissatisfied with the result, saying 'budget cutbacks and less broadcasting time for drama', meant it was cut to a single hour – 'and bad things happen when novels get cut down to an hour'.
'So despite a really terrific cast and production and as solid a script as could be in the circumstances, I was not happy. It felt like one of those Readers' Digest condensed books".
This new adaptation runs for a total of three-and-a-half hours - with a half-hour show every day at 11.30pm from December 25 to 29, and an hour-long climax on December 30 at 2.30pm.
The project was announced at a press launch for BBC radio's Christmas programming in London tonight.
Published: 22 Nov 2017
What do you think?