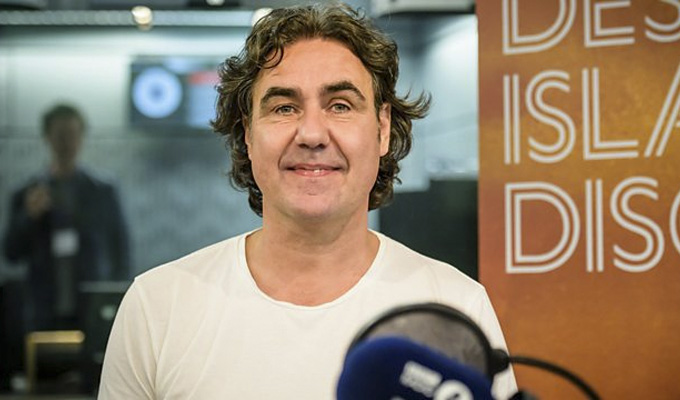 Micky Flanagan: I can think of nothing more horrific than being middle-class
Micky Flanagan says there would be 'nothing more horrific' than for him to be considered middle class.
The comic accepts that he has left his working-class roots behind now he has found wealth and success, but says he's not comfortable among middle-class people
'If you leave your class, which one of them do you join?', he said on Desert Island Discs today. 'Cause I don't want to join anybody's.
'But it's quite obvious I'm not solidly working class anymore. But there's no way in a million years. I want to be recognised as middle class or upper middle class. Can you think of anything more horrific?'
He told presenter Kirsty Young that when writing his latest stand-up tour, he had to acknowledge his new situation.
'I had to approach this third show in being as honest as I'd always been,' he said .'So when I'd come out I'd say to the audience, "Look there's something you have to understand – I am absolutely loaded."
'I say to the audience, "Look, I am still like you - but with money." You cannot tell lies in comedy. You can fantasise a bit and you can run with a story to its extremes but you cannot lie.'
He added that he enjoyed playing arenas because 'he bigger the stage the better. I will fill it up, I will run, and jump, and skip, and sing – I can feel the energy coming back to me – it's electric.'
But he says he will never have a spectacular entrance – 'I don't ever want to get to the point where I come down on a swing' – and says he has no diva-like demands. 'I've got Barry, my tour manager, and we travel with our own kettle, and teabags. I take along some stoned dates. And I like a towel. That's it. Anything more than that is just aggravation.'
He also spoke about how his father was 'involved in crime at a certain level' and that he was aware of the fact even as a child.
'He came from that world of knocked-off gear,' the comic said. 'He went to prison a couple of times.
'He wasn't a jailbird. I think he really liked life as well, he liked to drink, he loved his horse racing, he liked his nights out and I think when the couple of little bits of prison he got, I think it just knocked him for six.
'I remember going to see him in Pentonville, I think I was probably 10 or 11 at the time, I had to miss the big match so I already had the hump, and I remember looking at him, even at that age, I looked at him and thought. 'You're not coping with this that well". I wouldn't say he was forever changed, but I think he thought "enough's enough".'
He also spoke talking about the year off he had in 2015, at the peak of his fame, saying that he wasn't enjoying the fruits of his labours and felt under pressure to perform.
'What's the bit that's really horrible? It's you on your own having to deliver. It's fun a lot of the time, but it's just constant pressure to do it again.'
His songs included The Jam's That's Entertainment!, Billy Bragg's socialist anthem There Is A Power In The Union and Help Me Make It Through The Night by Kris Kristofferson, his favourite of the bunch.
His luxury item was a mini-hand hoover 'because you get so much sand in your bed it's a nightmare) and his book was The Pan Dictionary Of Philosophy.
Hear the full Radio 4 show here.
Published: 19 Nov 2017
What do you think?