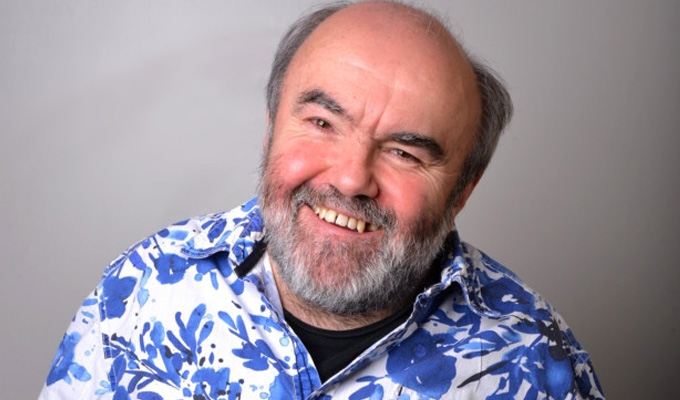 Why we need to keep mocking Donald Trump
Comedians need to keep making jokes about Donald Trump – even if it's hard to be original and near-impossible to exaggerate his failings for comic effect.
The was the view of panellists at an academic session last night, who said satire had a a role to play in telling truth to power – as well as making life easier for those opposed to the US President's actions.
Comedian Andy Hamilton said it was important to maintain a rage against the President. But the writer of topical comedy shows such as Ballot Monkeys admitted he was starting to feel fatigued by the constant stream of stories about him.
However, he also hoped that satirists would look beyond Trump's daily idiocies and into the deeper reasons for his rise.
'There is a part of me that is a bit Trumped out,' he admitted. 'The comic conversation needs to move to the hijacking of public discourse by the outrage industry manufactured by the extreme news outlets.
'The state we've reached is that it's quite repetitive. He's repetitively unpredictable, so you can always do jokes about the latest mad thing he's come out with – but fundamentally one of his key characteristics is his relentlessness. His stamina means he will outlast everyone.
'Creatively there's a battle to be original and observant. Comedians have a duty to remark how dangerous it all is, without it necessarily being in a comforting way.
'How you be inventive is very difficult - but that's not to say any anger should dissipate. When you see fundamental values being damaged or attacked you have to keep your anger. You have to keep writing about Trump as he's the most important person in the world.'
Hamilton also acknowledged: 'Audiences do want to laugh at things that are absurd but a bit frightening. Laughing shrinks the fear, which is part of the bonding function of comedy. The release of laughter also gives people respite.'
His comments came at an event entitled the Comedy, Populism and Donald Trump event at Brunel University in Uxbridge, West London, organised by the Centre for Comedy Studies Research.
On the same panel, writer Howard Jacobson also acknowledged the difficulty in parodying Trump – saying that even Chaplin could not compete with his real-life buffoonery.
He said: 'You cannot be funnier than Trump is. This is not just an oaf, this is an immeasurably stupid man, the most stupid man who's ever lived.'
But he said Trump should be mocked, even if the joke isn't funny.
'We have to make a distinction between comedy and making people laugh,' he said. 'Comedy needn't make people laugh – it can be bigger than that… a joke can be so sour it doesn't make you laugh.'
He quoted Jonathan Swift's maxim that his job was to 'vex the world rather than divert it' – and drew especial focus on the fact it was the wider world, not just the object of his satire, he wanted to trouble.
Of his own Trump book, Pussy, Jacobson said: 'I wanted to vex the world because I blame the world.'
But he admitted he was 'fascinated' by Trump's rise, 'attracting people by virtue of having no language skills. Hitler was a very good orator. But here is someone who has the terrifying power to persuade people with no oratorical gift at all. [On the campaign trail], people were being moved by nothing. The less he said the more people like him'.
He also wondered if jokes from the liberal left might even make matters worse.
'There is now a war with the educated and the uneducated and the educated don't know what to do about it. Should we shut up?Every time we make fun of Trump the uneducated like him more.
'Whether it will help, who knows? All you can do is contribute to a non-stop stream of derision which much come every day otherwise it will become normal. Normal to have the most stupid person in the world as the most powerful.'
He added that satire was also 'a consolation to make us all feel better' who were opposed to Trump.
In that, he was echoing an earlier speaker, Sophie Quirk, from the University of Kent:
Citing the post-election broadcast of The Daily Show with Trevor Noah, she highlighted the 'community' the show has with its audience, and how it 'recognised that community was angry, bereft and in mourning' after the result.
She also acknowledged the role of satire in educating people, especially the young. 'Audiences might be expecting better quality information than in much of the news media,' she said.
Jeffrey Karp, a political scientist based at Brunel said 'maybe we have comedy to blame' for Trump's rise.
Before he became president, Trump was no stranger to comedy, having twice hosted Saturday Night Live. helping fuel his celebrity.
Jokes might even have been behind him running for office. He was sour-faced during the 2011 White House Correspondents dinner when he was roasted by Barack Obama and Seth Meyers, and many say that prompted him to vow revenge on the Washington establishment.
'He wasn't taken seriously, always viewed as a clown, for obvious reasons,' said Karp. 'In many ways he was so underestimated that this might be one of the reasons he's been so successful. Politicians tend to be more successful when expectations are low.
'Comedy underestimates him and continues to do so.'
Published: 16 Nov 2017
Recent News
What do you think?