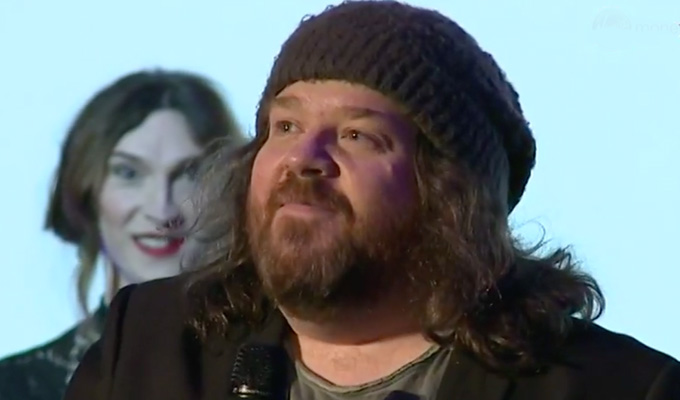 Ian Boldsworth wins Mind award
Ian Boldsworth has won an award from mental health charity Mind for his podcasting.
The comic was named 'digital champion' the organisation's annual awards last night for The Mental Podcast.
The show contained 'deeply personal accounts' from both Boldsworth and some of his friends about their mental health issues.
At the Mind Media Awards ceremony, which was attended by Prince Harry, the comic said: 'It's a weird one, this. I'd done podcasts for years and never envisaged doing one like this.'
After thanking those who contributed to the show he said: 'I've been nominated for a lot of awards in my life and never won one.
'Whatever you tell yourself in that situation, you are disappointed. I met all the nominees before tonight and I would genuinely cut this [award] up and share it with you all, because you are all lovely and I don't want you disappointed you didn't get this.'
In the citation, judges said the stories in Boldsworth's podcast were told 'with heart and humour'.
In other categories, Ken Loach's I, Daniel Blake, starring comedian Dave Johns, took the film award; and Cold Feet won the drama category for the storyline involving John Thomson's character Pete and his struggle with depression
When he was nominated, Boldsworth, who formerly performed under the name Ray Peacock, said: 'It's a nice thing to be nominated in these awards, as I get so many emails saying how it has helped people – and you can't make them public when the comedian show-off part of you wants to go "Look how impressive I am, look at all these people I have saved!"
'Getting nominated in this is has meant that somebody else is showing off for me. I am genuinely proud of the podcast as a thing, it was a living hell to put together - I can't begin to explain how stressful it was, in both logistics and being detrimental to my own head, but I think it's a properly positive piece of work that pulls no punches which came out of something really rather horrendous.'
The podcast can be heard here.
Published: 14 Nov 2017
Recent News
What do you think?