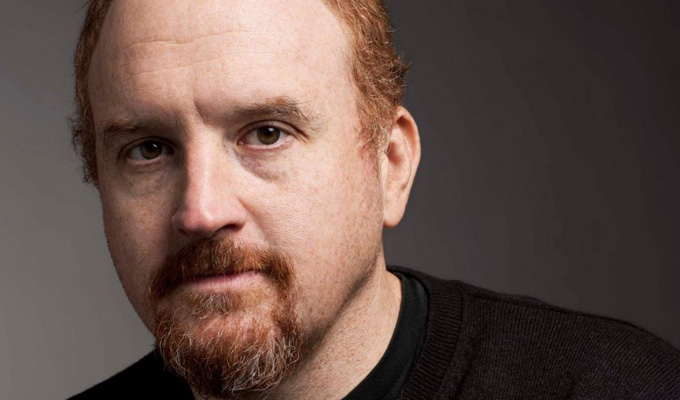 Louis CK's reputation lies in tatters
The rumours that have been swirling around the comedy world for years were made public last night, as five women who accused Louis CK of sexual misconduct went public in the New York Times.
And although the explosive reports that he would force women to watch as he masturbated come as no surprise to those in the know, the accusations have had an instant effect on his hitherto gilded career and reputation.
HBO immediately dropped the comedian from a Night Of Too Many Stars comedy benefit that it plans to broadcast next Saturday and dropped all his past projects from its on-demand service. But five of his specials are still available on Netflix.
FX, the cable channel that broadcasts his comedy series Louie said that it was 'very troubled' by the report but added that it received no allegations of misconduct on any of the shows he makes for them. However, it said it is conducting a review in light of the accusations.
Parks and Recreation creator Mike Schur has apologised for including Louis CK in the show, saying: 'I don't remember when I heard the rumours about him. But I'm sure it was before the last time he was on Parks and Rec. And that sucks. And I'm sorry.'
And the first wind of the New York Times story came when the New York premiere of his controversial new film I Love You, Daddy was abruptly cancelled last night.
In the report, the newspaper cites several instances of sexual misconduct against the star.
Comedy duo Dana Min Goodman and Julia Wolov said that while they were hanging out in CK's hotel room at the Aspen comedy festival in 2002, he 'got completely naked, and started masturbating'. They said they were 'paralysed', screaming and laughing in shock.
Comedian Abby Schachner said that when she called CK to invite him to one of her shows in 2003, she could hear him masturbating at the other end of the line as he started to describe his sexual fantasies.
Comedy Central star Rebecca Corry, said that while she was appearing with Louis CK on a television pilot in 2005, he asked if her if 'we could go to [Corry's] dressing room so he could masturbate in front of her'. She declined. The executive producer, Friends star Courteney Cox, confirmed the 'awful' story, saying she felt 'outrage and shock'.
An anonymous woman said that while they were both working on the Chris Rock Show in the late 1990s, where CK was a writer and producer, he repeatedly asked her to watch him masturbate. She said she agreed because of the 'culture' and the time, despite knowing it was wrong, adding: 'He abused his power.'
Louis CK's publicist declined to respond to the Times but in September the comic said: 'I'm not going to answer to that stuff, because they're rumours. If you actually participate in a rumour, you make it bigger and you make it real.'
However, the Times also reports that in recent years, CK has been in touch with some of the women involved to apologise for his earlier behaviour.
CK has helped give female comedians a leg-up in the business and some saw him as a feminist who would be brutally honest about male flaws in his stand-up.
But Tig Notaro, whose 2012 comedy special about her cancer diagnosis was released by CK, now says she feared 'he released my album to cover his tracks,… he knew it was going to make him look like a good guy, supporting a woman'.
She is not the only one in the comedy world to be distancing herself from CK.
Rosie O'Donnell said 'nothing will ever surprise me again regarding men.'
Referring to Schachner's comments that the interaction left her 'deeply dispirited and discouraged from pursuing comedy,' Judd Apatow said: 'This to me was one of the saddest parts of the Louis CK story. When you disrespect and sexually harass young, vulnerable people you become a dream killer.'
Seinfeld star Jason Alexander tweeted: 'Gentlemen, comedy is often inappropriate. It is sometimes daring and audacious and shocking. But our behavior, in the real world, toward women - that doesn't get a pass on inappropriate.'
Jokes about masturbation have regularly featured in CK's material, in one routine confessing that he was a slave to his 'constant perverted sexual thoughts'. As he mimes masturbating, he says: 'It makes me into a moron.'
And in I Love You, Daddy – about a 17-year-old girl, played by Modern Family's Chloe Grace Moretz, who falls in love with a 68-year-old filmmaker (John Malkovich) – one character is seen aggressively mimicking masturbation in front of others.
On Monday, distribution company The Orchard bought the film, which CK financed, for $5 million. In the wake of last night's news, that may now be looking like an unwise investment.
In a statement last night, they said: 'There is never a place for the behaviour detailed in these allegations. As a result, we are giving careful consideration to the timing and release of the film and continuing to review the situation.'
Published: 10 Nov 2017
What do you think?