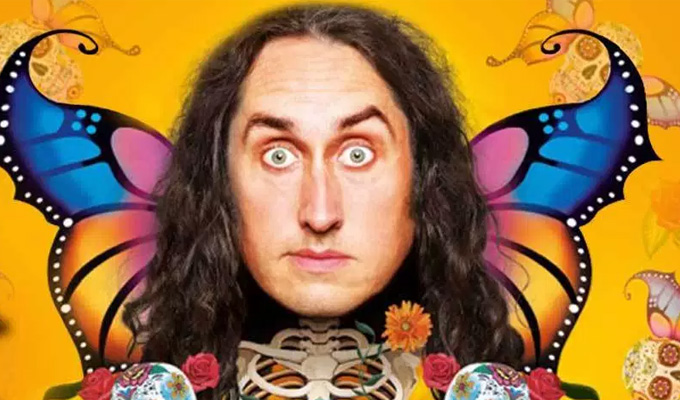 Ross Noble announces 2018 tour dates
Ross Noble has announced his 16th tour show, El Hablador.
The title means 'talkative storyteller' in Spanish, but the comic admits that giving the tour a name doesn't mean it had a theme.
'It's me doing what I do; going on stage just talking and that,' he said in a video to launch the tour. There's no high concept That changes from show to show and moment to moment.'
So far 67 UK and Ireland dates have been announced from September 9 to December 14 next year, and include four nights in Noble's home town of Newcastle, and two nights at the London Palladium.
Tickets for most venues will be available from next Wednesday.
The dates follow an Australia tour early next year – after his stint playing Igor in the West End version Young Frankenstein ends at the Garrick Theatre.
Noble also has a three-part motorcycle TV series, Ross Noble: Off Road, set to air on Dave next month.
Here's the video about the tour.
And here are the tour dates:
Sunday September 9: Glasgow Theatre Royal
Wednesday September 12: Exeter Corn Exchange
Thursday September 13: Yeovil Octagon Theatre
Friday September 14: Salisbury City Hall
Saturday September 15: Shaklin Theatre
Sunday September 16: Bournemouth Pavillion
Tuesday September 18: Swansea Grand Theatre
WednesdaySeptember 19: Barnstaple Queens Theatre
Thursday September 20: Shrewsbury Theatre Severn
Friday September 21: Shrewsbury Theatre Severn
Saturday September 22: Cheltenham Everyman Theatre
Monday September 24: Norwich Theatre Royal
Tuesday September 25: Swindon Wyvern Theatre
Wednesday September 26: Swindon Wyvern Theatre
Friday September 28: Belfast Ulster Hall
Saturday September 29: Dublin Olympia Theatre
Tuesday October 2: Crawley The Hawth
Wednesday October 3: Cardiff St Davids Hall
Thursday October 4: Basingstoke The Anvil
Saturday October 6: Oxford New Theatre
Sunday October 7: Stafford Gatehouse Theatre
Wednesday October 10: Buxton Opera House
Thursday October 11: Hull City Hall
Friday October 12: Lincoln Engine Shed
Saturday October 13: Loughborough Town Hall
Tuesday October 16: Bristol Hippodrome
Wednesday October 17: High Wycombe Wycombe Swan
Thursday October 18: Northampton Royal & Derngate
Friday October 19: Harrogate Royal Hall
Saturday October 20: Sheffield City Hall
Sunday October 21: York Grand Opera House
Tuesday October 23: Doncaster Cast
Wednesday October 24: Halifax Victoria Theatre
Thursday October 25: Coventry Warwick Arts Centre
Friday October 26: Coventry Warwick Arts Centre
Saturday October 27: Coventry Warwick Arts Centre
Sunday October 28: Derby Theatre
Tuesday October 30: St Albans Alban Arena
Wednesday October 31: St Albans Alban Arena
Friday November 2: Carlisle Sands Centre
Saturday November 3: Edinburgh Festival Theatre
Tuesday November 6: Portsmouth Guildhall
Wednesday November 7: Tunbridge Wells Assembly
Friday November 9: London Palladium
Saturday November 10: London Palladium
Tuesday November 13: Kings Lynn Corn Exchange
Wednesday November 14: Ipswich Regent Theatre
Thursday November 15: Leicester De Montfort Hall
Friday November 16: Cambridge Corn Exchange
Saturday November 17: Southend Cliffs Pavillion
Sunday November 18: Brighton Brighton Dome
Wednesday November 21: Newcastle City Hall
Thursday November 22: Newcastle City Hall
Friday November 23: Newcastle City Hall
Saturday November 24: Newcastle City Hall
Sunday November 25: Barrow In Furness Forum
Wednesday November 28: Crewe Lyceum
Thursday November 29: Crewe Lyceum
Friday November 30: Manchester Apollo
Saturday December 1: Nottingham Royal Concert Hall
Sunday December 2: Scarborough Grand Hall
Wednesday December 5: Guildford G Live
Friday December 7: Liverpool Empire
Saturday December 8: Middlesbrough Town Hall
Tuesday December 11: Llandudno Arena
Thursday December 13: Leeds Town Hall
Friday December 14: Leeds Town Hall

Published: 3 Nov 2017
What do you think?