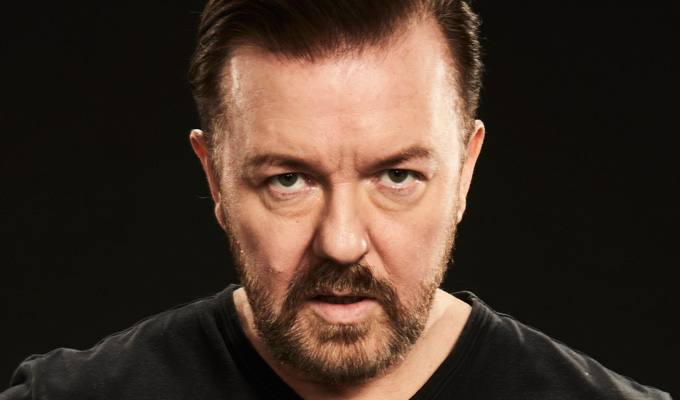 Netflix buys Ricky Gervais's Humanity special
Ricky Gervais's stand-up special Humanity is to be released on Netflix.
The comic says that he's sold the show, which he's still touring, for the highest fee ever paid for a UK stand-up special.
However, he declined to reveal the amount he's received for the show, which was recorded at two performances in London and will 'probably' air in the spring.
Stand-up is 'my favourite thing I do now' he told fellow comic Jim Norton and Sam Roberts on US satellite broadcaster Sirius XM.
It is the same station that started airing his show Ricky Gervais Is Deadly Sirius yesterday, under a deal that makes the comic the highest paid UK radio presenter in the world.
'I want to call myself a stand-up now,' Gervais said. 'I don't want to call myself a comedian or writer-director.
'That's why it's been seven years [since his previous stand-up tour], because I always thought that it was the third string to my bow. And it got put back, more important things came along, a sitcom or a film …'
But now, he says, 'nothing's more important to me' than live comedy.
'There's nothing like it … even if you get your own way on a sitcom or a film, I have to wait for the money and wait for the casting, say when it's going out.
'Whereas, I'll say "I'm playing that town, I want to go to that town, I'm playing it tomorrow, here's the tickets". And you can say what you want, it's such a privilege. And I'm so up on freedom of speech now, more than I've ever been.'
Reflecting on his progression as a comic, Gervais admitted that 'I suddenly realised, "oh, I was OK before but I wasn't good". And now I think I'm good. And that shouldn't be a revelation that it takes 15 years to be a good stand-up. It's a really fucking tough, I would say art-form, but it's more of a science because it works or it doesn't.'
Elaborating to Jimmy Fallon on last night's Tonight Show, Gervais confirmed that Jerry Seinfeld had cajoled him into returning to stand-up, saying that 'Seinfeld doesn't understand why me and Chris Rock do other things when we can do stand-up, he doesn't understand why we do movies. And I agree now … now it comes first. I can't wait to do another tour … I've got old people's rights so I can say what I want now.'
Earlier this year, Gervais tweeted a defence of his material after a couple whose newborn son had died walked out of a performance of Humanity in Belfast, presumably after his routine featuring a hypothetical dead baby.
However, Gervais told Norton and Roberts that 'I've played this show to, I don't know, 400,000 people, never had a complaint.
And he predicted: 'It'll go on Netflix and everyone will complain about their thing. There's 20 things that I talk about and there'll be 20 different groups that will pick up on their thing in that 20. I don't know what to do really, you've just got to keep fighting the good fight.'
Gervais is now the seventh UK comic to land a Netflix special and the fifth after Jimmy Carr, Katherine Ryan, Jack Whitehall and Russell Howard to secure an international release.
The streaming giant does not publicly reveal details of deals it signs with comedians. But Rock has reportedly been paid $40million for two specials and Seinfeld $100million for a pair of specials and the rights to the entire series of his interview show Comedians in Cars Getting Coffee.
Trade bible Variety estimates that Netflix is currently paying $10million to $20million a special for high-profile comics.
Gervais is also making an as-yet-untitled comedy-drama for the broadcaster about a man who contemplates suicide after his wife dies.
But speaking to Norton and Roberts he downplayed the suicide hook.
Instead, he said that his character uses the awareness that he could kill himself 'like a superpower', reasoning: 'What I'm going to do now is I'm going to try and enjoy life, I'm going to punish the world for what happened. I'm going to say what the fuck I want … Until it all gets to much and I can still always end it."
'He can do what he wants. And like all superpowers, it gets a bit complicated. Because obviously, he's not a psychopath, he is burdened with conscience, he's got things like guilt. So he finds it hard to do exactly what he wants.'
- by Jay Richardson
Published: 25 Oct 2017
What do you think?