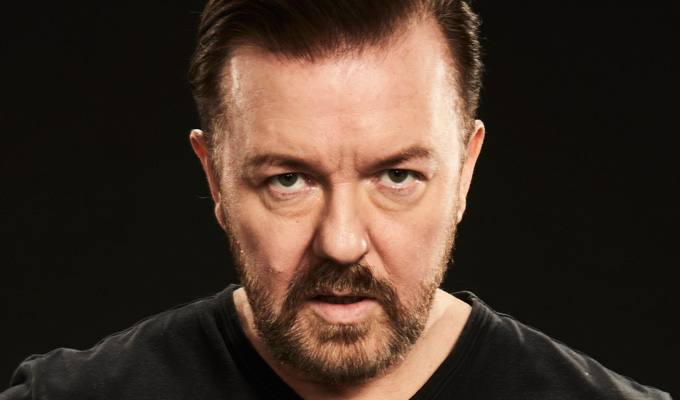 Ricky Gervais returns to his radio roots
This week's best comedy shows on demand.
Audible Presents
Audible, the audio book people, have released a series of 12 half-hour stand-up shows featuring some of the best comics from the Edinburgh Fringe, a mix of the old and the new including the likes of Andrew Maxwell, Mark Watson, Reignald D Hunter, Josie Long, Jason Byrne, Paul Foot and many more.
They can all be heard – for free – here.
Ricky Gervais is Deadly Sirius
This is a pilot episode of a show Gervais brought to the Sirius XM satellite radio station in the States, a throwback of sorts to his first break on XFM in London. It wasn't necessarily made for broadcast, but whaddya know, the comic has released it online this week.
In the show – a taster for a series which ran on the channel in August – Gervais sat down with presenter Sam Roberts and fellow comic Mike Birbiglia to discuss everything from science to pop culture .
'I want it to be quite timeless,' he said. 'The big issues, like what's the meaning of life? There will be jokes and irreverent discussions.'
Jamie Demetriou's Horror
Just in time for Halloween, Sky Arts have released this film on YouTube, for even non-subscribers to enjoy.
In the short film, inspired by the work of Being John Malkovich screenwriter Charlie Kaufman, Jamie Demetriou plays man who's turning into a car. It is full of disturbingly funny moments as the strange transformation takes hold.
The short also stars Demetriou's comedian sister Natasia alongside Liam Williams, Ellie White, Ben Ashenden and Arnab Chanda.
Porridge
The reboot divided fans when the new series started last night - with many saying new star Kevin Bishop could never fill Ronnie Barker's prison-issue boots. But if you *can* look past the long shadow of the original, this is a decent sitcom in its own right.
All six episodes in the series were released on iPlayer after the opener aired on BBC One last night, and can be viewed here.
Published: 7 Oct 2017
What do you think?