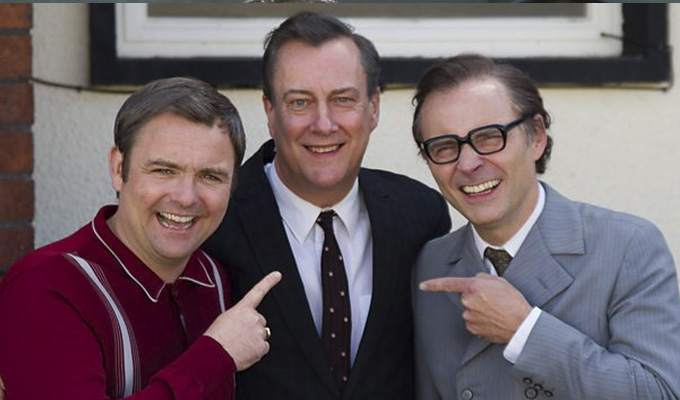 Revealed: The cast of Eric, Ernie & Me
BBC Four has announced the cast for its one-off film about Morecambe and Wise's writer Eddie Braben.
Stephen Tompkinson will take the lead role with Catastrophe star Mark Bonnar as Eric Morecambe with Neil Maskell from Humans and Utopia as Ernie Wise.
Filming on Eric, Ernie & Me – which has been written by Bob Servant creator Neil Forsyth – started this week in Bristol and Cardiff
Former Drop The Dead Donkey star Tompkinson said: 'Thanks to Eddie Braben, Eric Morecambe and Ernie Wise became the most beloved comedy double act since Laurel & Hardy. The intimate utopia Eddie created for the boys has left us with everlasting joy and sunshine.
'This beautifully crafted piece by Neil is a rarity that reminds us how lucky we were that these three gentlemen bonded together, and of the efforts that went behind holding generations eternally grateful.
'For this project to have the blessings of the Braben, Morecambe and Wise families, makes us constantly aware of what an honour it is to portray these comedic legends.'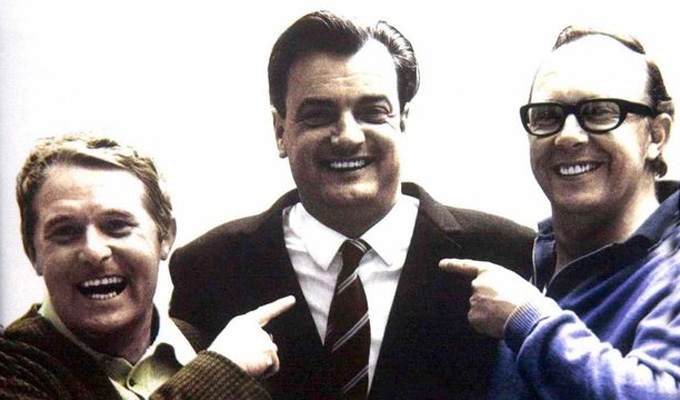 W1A's Rufus Jones plays double act's long-term producer John Ammonds; Hunderby's Alexander Macqueen plays Bill Cotton, the BBC's head of light entertainment, and Ackley Bridge's Liz White plays Braben's ever-encouraging wife Deidree.
BBC comedy chief Shane Allen has previously said: 'Eddie was the genius writing catalyst for Morecambe's and Wise's golden age in the 70's and this Christmas marks the 40th anniversary of one of the most watched comedy shows of all time.
'In this biopic we go behind the famous velvet curtains to see the blood, sweat and tears that went into keeping the whole nation entertained.'
Braben, who died in 2013, first wrote jokes in his spare time while working on the family greengrocery stall in Liverpool. His first was sold to Charlie Chester for 2s 6d, but his first major success was with Ken Dodd, with whom he worked for 12 years.
Braben's partnership with Morecambe and Wise began when they were lured to the BBC from ITV, and he took over from previous writers Dick Hills and Sid Green. The first Braben-penned Morecambe & Wise Show was broadcast in July 1969.
He is credited with developing their relationship beyond the traditional double-act dynamic to the more nuanced partnership it became.
The hour-long Eric, Ernie & Me is directed by the Bafta-winning Dan Zeff, with Ben Farrell and Toby Stevens as executive producers and Alison Sterling producing.
It was commissioned by the BBC's Gregor Sharp from programme-makers Objective Fiction.
Published: 6 Oct 2017
What do you think?