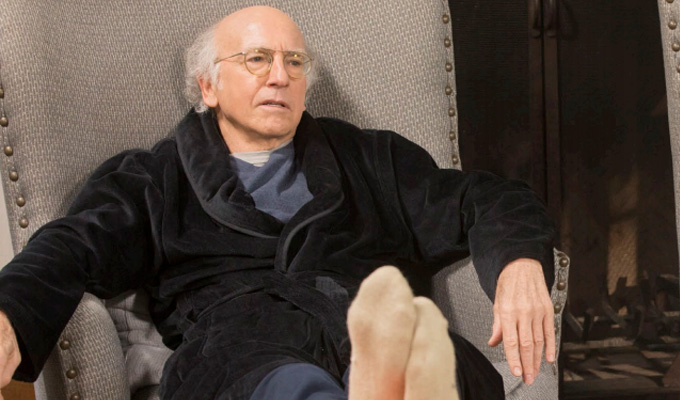 Pretty, pretty good news
The week's best comedy on TV and radio.
Monday October 2
CURB YOUR ENTHUSIASM: After six years, Larry David returns, getting righteously vexed about trivial detail, triggering a chain of misfortune. Guest stars this series include Elizabeth Banks, Ed Begley Jr, Bryan Cranston, Jimmy Kimmel and Nick Offerman. Sky Atlantic, 10pm
RADIO 1 COMEDY SHOWS: In the 1990s, Radio 1 was a significant outlet for comedy, broadcasting the likes of The Mary Whitehouse Experience, Armando Iannucci shows, Fist of Fun with Lee & Herring and Chris Morris's Jam. They all feature in this documentary, airing as part of the station's 50th anniversary celebrations on the pop-up station Radio 1 Vintage on the BBC iPlayer. The programme includes new interviews with Armando Iannucci, Steve Punt and Richard Herring. 9pm Also Radio 4 Extra is joining the celebrations across the week, by repeating some of the best of Radio 1's comedy output.
THE UNBELIEVABLE TRUTH: The David Mitchell-fronted panel show returns with Richard Osman, Arthur Smith, Lou Sanders and Phil Wang trying to smuggle truths past each other, hidden in a sea of lies. A bit like a White House press conference. Radio 4, 6.30pm
THE WRONG ARM OF THE LAW: This 1963 Peter Sellers comedy gets an airing on vintage channel Talking Pictures TV. It co-stars Bernard Cribbins and Bill Kerr as fellow criminals and it was written in part by Hancock and Steptoe geniuses Ray Galton and Alan Simpson. 6.30pm
Tuesday October 3
IT'S JUST A JOKE, COMRADE, 100 YEARS OF RUSSIAN SATIRE: Comedian and Russophile Viv Groskop explores how satire continues to shape the nation's psyche, a century after the Revolution – from Bolshevik satire and early Communist cartoons to contemporary comedians on today's circuit. Radio 4, 11.30am
Wednesday October 4
YOUR FACE OR MINE: It barely seems like the first season is over, but now here's the second series of the revived looks-based shoe with Jimmy Carr and Katherine Ryan. Joe Swash and Stacey Solomon are on this episode, so consider yourself warned. Comedy Central, 8pm.
Thursday October 5
RED DWARF: The boys are back for the much-anticipated new, 12th series… with the first episode being made available on UKTV Play today ahead of the series launch on Dave in a week's time. In this episode, Rimmer, Lister, Cat and Kryten come across a scientific research centre where some of history's greatest monsters have been resurrected, and 'cured' of evil. Also, star Craig Charles is In Conversation With John Bishop at 9pm on the W channel.
ZAPPED: Another returning Dave comedy gets its premiere on UKTV Play, with James Buckley playing Brian, a modern-day office temp zapped into a parallel fantasy world. In this episode, he has been locked up and charged with triggering the Snail Wars.
LIAM WILLIAMS: LADHOOD: Literate comedian Liam Williams recounts his youthful misadventures in this autobiographical sitcom. In episode one, Liam anxiously awaits his A-Level results before embarking on his future at Cambridge University. The show co-stars Al Roberts, Emma Sidi, Freya Parker, Kieran Hodgson, Paul Copley, Paul G Raymond and Sally Grace. Radio 4, 11pm
Friday October 6
PORRIDGE: The rebooted sitcom, still penned by Dick Clement and Ian La Frenais and sticking close to the original, returns to BBC One for a full series following a pilot last year. Kevin Bishop plays Nigel 'Fletch' Fletcher, the grandson of Ronnie Barker's character, who in this opening episode helps fellow inmates of Wakeley prison with their correspondence with the outside world… and ends up getting embroiled in their lives. 9.30pm
MODERN FAMILY: The Pritchett-Dunphy-Tuckers. are back for a ninth season, with patriarch Jay forcing the family to go on a houseboat holiday in this first episode, with the aim of creating memories that will last long after he's gone. Sky 1, 8.30pm.
Published: 1 Oct 2017
What do you think?