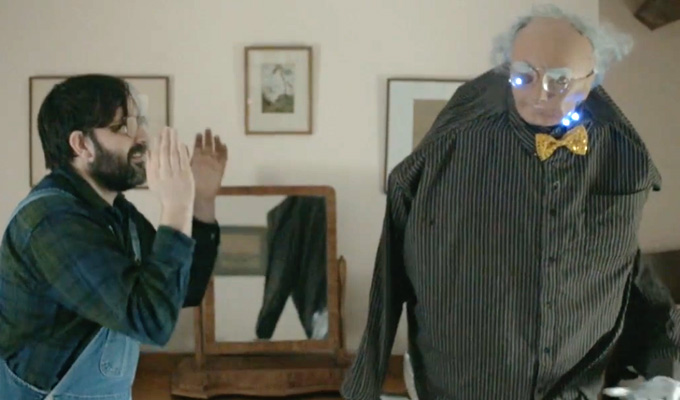 My friend the robot
This week's best comedy shows on demand.
Brian and Charles
Reclusive comedian Brian Gittins was once so lonely that he built himself a robot companion and called it Charles Petrescu. His mechanoid pal has featured in his live shows, and now here's a bleakly funny short film about their life together on a remote farmhouse.
It co-stars Chris Hayward, and was directed and edited by Jim Archer:
In this new podcast, the two comedians take a look at current affairs, despite knowing very little about what's going on in the news. It comes from the pair's Fubar Radio show, and the broadcaster describes it as 'Newsnight meets An Idiot Abroad'.
Regular features include Celebrity Weather – in which Walsh calls up a showbiz pal to ask what the weather is like where they are – and 'Local Gossip, a roundup of parochial tedium in Seann's Mum's cul-de-sac.
You can listen here.
Trigger-Happy Hunters Bloodbath
BBC Three has released this sweary ten-minute animation for adults in which the creatures of the African plains encounter a couple of trigger-happy hunters and it all turns a little Pulp Fiction…
Dinner With Don
Don Rickles has launched a new digital series from beyond the grave. Dinner with Don features the insult comic, who died in April aged 90, hold court with stars including Jimmy Kimmel, Amy Poehler, Snoop Dogg, Robert De Biro, Martin Scorsese, Sarah Silverman, Billy Crystal and Vince Vaughn. The series can be streamed in full here.
Def Comedy Jam 25
In this special live event, recorded for Netflix, stand-ups who came up through Russell Simmons's black comedy showcase Def Comedy Jam gather to celebrate its 25th birthday. They include Dave Chappelle, D.L. Hughley, Cedric the Entertainer, Steve Harvey, J.B. Smoove, Tracy Morgan, Kevin Hart and Katt Williams. It's available to Netflix subscribers here
Published: 30 Sep 2017
Recent News
What do you think?