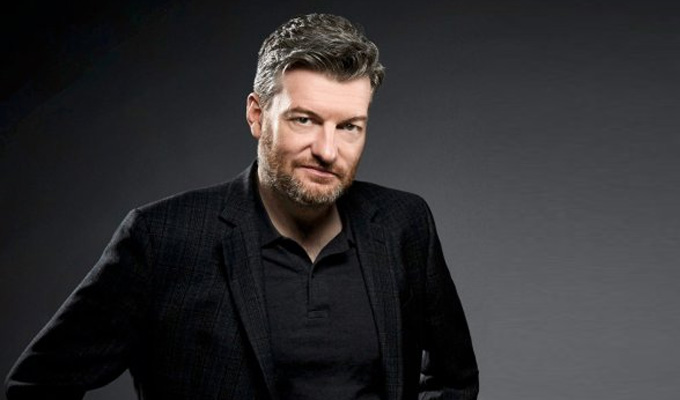 Revealed: Details of Black Mirror Series 4
Charlie Brooker says writing satire has become difficult because real politics is so insane – and moves too quickly.
Referencing the most notorious episode of Black Mirror, he said that trying to parody global events today was 'like writing a satire about the Prime Minister fucking a pig, in the middle of a pig-fucking orgy.'
'It's tricky because everything's moving so fast,' he said at the Edinburgh International TV Festival, explaining that 'I've tried not to think specifically what's going on' during the writing of the fourth series. 'If I'd written a very topical episode, god knows where we would be by the time it does come out.
The first trailer for the next six episodes of the anthology was also released at the festival revealing the episode titles and the scantest of details.
They are Crocodile, filmed in Iceland; Arkangel, featuring a scary-looking child and directed by Jodie Foster; USS Callister, set on a starship; Hang The DJ; Metalhead, which is shot in black and white; and Black Museum.
Brooker revealed that one of the episodes [Black Museum]. was a three-in-one anthology 'like Treehouse of Horror', with one of the story ideas contributed by comedy magician Penn Jillette. Another idea in the series was contributed by Peep Show co-creator Jesse Armstrong.
'They are quite simple ideas, quite popcorn,' he said. 'Like, if you could rewind your memory how would that affect the argument?
'Those tend to work the best. When pitching to us, people sometimes get a little too elaborate or earnest. But there's a sense of playful relish that should always be at its heart.'
But he concedes that's not always the image that comes across. 'In America, where they don't really know me, they that think I'm like the Unabomber, some sort of angry Luddite who's delivering a stark warning. But I just worry about the negative consequences of anything.I could see the negative consequences of a Wagon Wheel and I love Wagon Wheels.'
He also said he had tried to vary the atmosphere of the shows in the new Netflix series.
'Doing San Junipero [the 1980s-set episode from the last series] proved to me that you can do an uplifting episode of Black Mirror, so we are varying the tone a bit more.
'We thought that if you do six downers it's too much for anyone and you come to expect it. We are able to adjust the tone more. We can do comedic episodes… but not to shortchange the people who want the horrible body blows raining down.'
Brooker also revealed that he wrote some of the scripts very fast, to the obvious jealousy of interviewer Sup Perkins.
'Sometimes I can write a script incredibly quickly in two or three days,' he said. 'San Junipero took four days. My record is two days. But there's a lot of self-hatred that goes into that.
He thought it was the White Bear episode that was the quickest to write, once he had figured out the structure after several false starts. 'I was so excited, it was almost automatic writing,' he added.
And explaining that he could never tell which stories would be easy or hard to produce, he joked: 'It's like going to the toilet.'
Brooker added that one function of satire was to reassure natural worriers like himself that they were not alone. Recalling his childhood, he said: 'If Spitting Image was worried about nuclear war I felt I wasn't alone.
'When everyone's worried about the state of the world I can take a day off. I genuinely get a bit more relaxed.'
He further explained that working for Netflix meant he could have a global perspective, shooting the episodes wherever felt right.
But returning to the notorious National Anthem episode, which was made for Channel 4, he said was a quintessentially British story.
He joked: 'If it was Donald Trump he would go, "I'm going to make this pig come!"… Or actually he would probably say while fucking the pig, "I'm not fucking this pig Fake News!"'
Black Mirror Series 4 Episode Guide (in in particular order)
Arkangel
Cast: Rosemarie Dewitt (La La Land, Mad Men), Brenna Harding (A Place to Call Home), Owen Teague (Bloodline)
Director: Jodie Foster
Written by: Charlie Brooker
USS Callister
Cast: Jesse Plemons (Black Mass, Fargo), Cristin Milioti (The Wolf of Wall Street, Fargo), Jimmi Simpson (Westworld, House of Cards), Michaela Cole (Chewing Gum, Monsters: Dark Continent)
Director: Toby Haynes (Dr Who, Sherlock)
Written By: Charlie Brooker & William Bridges
Crocodile
Cast: Andrea Riseborough (Birdman, Bloodline), Andrew Gower (Outlander), Kiran Sonia Sawar (Murdered By My Father)
Director: John Hillcoat (Triple Nine, Lawless)
Written By: Charlie Brooker
Hang the DJ
Cast: Georgina Campbell (Flowers, Broadchurch), Joe Cole (Peaky Blinders, Green Room), George Blagden (Versailles, Vikings)
Director: Tim Van Patten (The Sopranos, Game of Thrones)
Written By: Charlie Brooker
Metalhead
Cast: Maxine Peake (The Theory Of Everything, The Village), Jake Davies (The Missing, A Brilliant Young Mind), Clint Dyer (Hope Springs)
Director: David Slade (Hannibal, American Gods)
Written By: Charlie Brooker
Black Museum
Cast: Douglas Hodge (The Night Manager, Catastrophe), Letitia Wright (Humans, Ready Player One), Babs Olusanmokun (Roots, The Defenders)
Director: Colm McCarthy
Written By: Charlie Brooker
Published: 25 Aug 2017
What do you think?