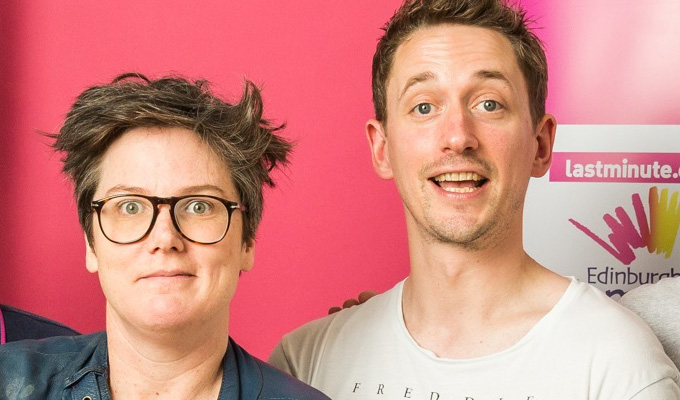 Gadsby and Robins share Edinburgh comedy award
Hannah Gadsby and John Robins have shared this year's lastminute.com Edinburgh comedy award.
It is the first time the prize has ever been split between two shows in the 37-year history of the accolade, and each will receive a £10,000 prize.
Meanwhile, Natalie Palamides won the best newcomer for her clown show LAID, about fertility.
No Panel Prize, recognising the spirit of the Fringe, was awarded this year.
Gadsby's show, Nanette, also won the Barry Award at the Melbourne International Comedy Festival earlier this year.
It is her swan song as she stands down from stand-up, and the show explains how comedy isn't enough to tackle the big issues such as the homophobia she has suffered.
Cracking with emotion as she collected her award, Gadsby said: 'I would not thank the circumstances that led to this. I would give this back in a flash if my community... ' her voice trailing off
Then she composed herself before saying: 'This is a very bitter-sweet.'
Gadsby also said: 'There are a lot of people who helped me get here; I'm the sort of person who needs a lot of external scaffolding.'
In his show The Darkness Of The Robins, Robins spoke of how he coped – or didn't – with the end of his relationship with fellow comic Sara Pascoe.
He said that despite the impression given by some reports in the run-up to the festival: 'The first person to call be and congratulate me was Sara... she is a creative force.'
Radio X DJ Robins thanked his agents and producers, adding: 'I want to thank the comedians who have supported me over the year; comedians who on this day might feel they have lost. But we are part of a creative community who deal with the world with action. To all the comedians: None of you have ever lost.
He then admitted: ' That's the first bit of material I've ever stolen – it's from a Dustin Hoffman speech.'
On receiving her £5,000 best newcomer award, American comic Palamides said: 'Oh my god I didn't think I'd win! Thanks to Dr Brown, Phil Burgers, for taking me under his wing even though he is a little bit of a bitch to me sometimes
'I seek to make art that also makes people laugh and to be recognised for that really means a lot I think my mom will now finally be proud of me.'
Awards director Nica Burns said: 'An outstanding shortlist in a brilliant year for comedy has resulted in an unprecedented decision. It is fitting that in the 70th anniversary year of the Fringe something extraordinary has happened.
'Both shows, which could not be more different, were hotly debated and fiercely fought for. Comedy has many possibilities and audiences very different funny bones. These two incredibly talented winners make you laugh and touch your heart.
'And yes, they will both receive £10,000 each so it's been an expensive year… and it is unlikely it will ever happen again. Long may comedy break the rules!'
The announcements were made by the League Of Gentlemen, who are reforming for a series of three BBC Two specials, and last year's winner, Richard Gadd. He took to the stage with a T-shirt bearing the name of nominee Mat Ewins – only to turn round to reveal the back said: 'Anyone but…'
There were a record nine nominees for the best prize, and eight for best newcomer, this year
Also nominated for the main award were: Ahir Shah, Elf Lyons, Jordan Brookes, Mae Martin, Mat Ewins, Sophie Willanand Spencer Jones.
And for newcomer award: Chris Washington, Darren Harriott, Ed Night, Kwame Asante, Lauren Pattison, Lucy Pearman and Rob Kemp for The Elvis Dead.
This year's panel is chaired by Sunday Times Culture editor Helen Hawkins and comprises Tanya Qureshi from Channel 4 Comedy, Tilusha Ghelani from Sky, Alexandra Smith from BBC Comedy, Geoff Rowe from the Leicester Comedy Festival; Mark Wareham from The Mail on Sunday; Mark Boosey from the British Comedy Guide and public panel competition winners Alex Caven, Sam Moulton and Nicholas Thompson.
Published: 26 Aug 2017
What do you think?