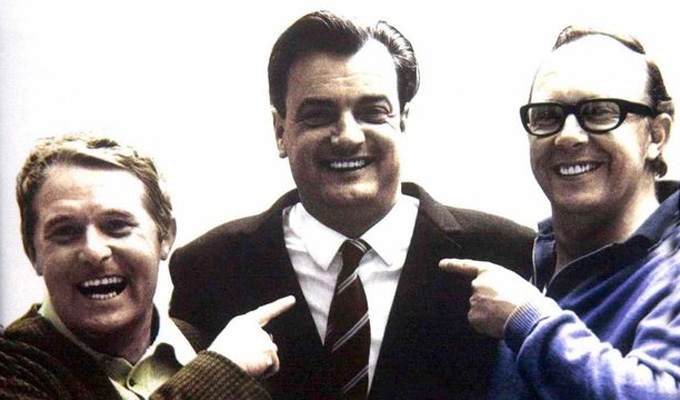 BBC hails the man behind Morecambe and Wise
The BBC is making a one-off drama about Morecambe and Wise's writer, Eddie Braben.
Eric, Ernie And Me is written by Bob Servant creator Neil Forsyth and will air on BBC Four.
The corporation said the hour-long film 'celebrates the man behind Morecambe and Wise's greatest successes, culminating in their iconic 1977 Christmas Show, whilst showing the pressure and pain he went through to help create Britain's most beloved double act'.
BBC comedy chief Shane Allen said: 'Eddie was the genius writing catalyst for Morecambe's and Wise's golden age in the 70's and this Christmas marks the 40th anniversary of one of the most watched comedy shows of all time.
'In this biopic we go behind the famous velvet curtains to see the blood, sweat and tears that went in to keeping the whole nation entertained."
Ben Farrell, chief content officer for makers Objective Fiction, added: 'Eddie Braben is an unsung comedy legend. It's an honour to bring his story to the BBC, a broadcaster for whom he created many of their most loved comic moments."
Braben, who died in 2013, first wrote jokes in his spare time while working on the family greengrocery stall in Liverpool. His first was sold to Charlie Chester for 2s 6d (the equivalent of 12½p in modern money), but his first major success was with Ken Dodd, with whom he worked for 12 years.
Braben's partnership with Morecambe and Wise began when they were lured to the BBC from ITV, and he took over from previous writers Dick Hills and Sid Green. The first Braben-penned Morecambe & Wise Show was broadcast in July 1969.
He is credited with developing their act beyond the traditional double-act dynamic to the more nuanced partnership it became.
Eric, Ernie And Me was commissioned by Gregor Sharp, for BBC Comedy and will be produced by Objective Fiction. Ben Farrell and Toby Stevens are executive producers with Alison Sterling line producing.
Published: 24 Aug 2017
What do you think?